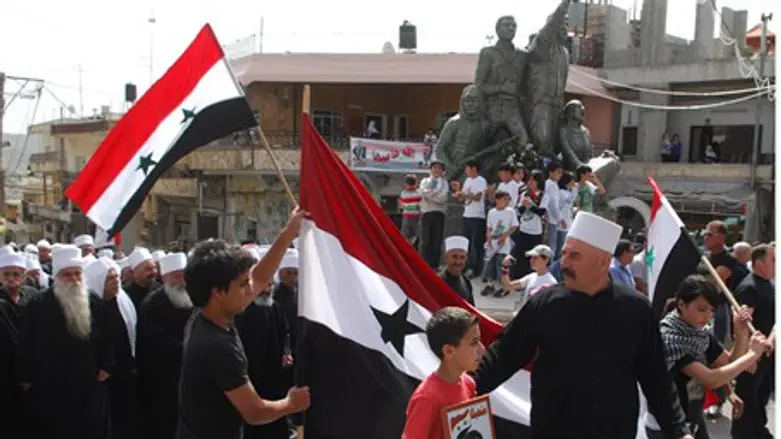 Majdal Shams Druze loyal to Syria
Hamad Almakt/Flash 90
Two of the four Arab terrorists who were eliminated by the IDF on Sunday night as they placed an explosive on the Golan Heights border with Syria are the sons of an Israeli Druze terrorist, according to a new report.
The Hebrew-language Channel 10 reports that it learned two of the terrorists were the sons of Walid Mahmoud from the Druze village of Majdal Shams, one of several Druze towns in the Golan that have retained loyalty to Syria.
Mahmoud was a security prisoner in Israel after having been jailed for terrorist activity.
Upon being released in the 1980s he fled to Syria, where he took up residence in the Syrian Druze village Hadar, located adjacent to the border with Israel.
The report indicated that a mourning tent will be set up in the Israeli Druze village of Majdal Shams for the two Arab terrorists, as the family still remaining in the town will mourn their deaths.
Regarding the attack which occurred last night around 9:30 p.m., a senior officer in the IDF said that it is still not clear if the four-man terror cell was affiliated with an official terrorist organization, and if so which group they belonged to. 
The source added that it isn't clear either whether they launched the attack from Israeli territory to the east of the security barrier, or from a Syrian military post located adjacent to Majdal Shams on Syrian territory.
Highlighting the problematic nature of Majdal Shams's loyalty to Syria was an incident last month, in which a Druze resident of the town was arrested for spying against Israel for the Syrian regime of President Bashar al-Assad.
Unlike most other Israeli Druze, who are loyal to the State of Israel and largely serve in the IDF, many Druze residents of the Golan maintain loyalty to the Syrian regime.