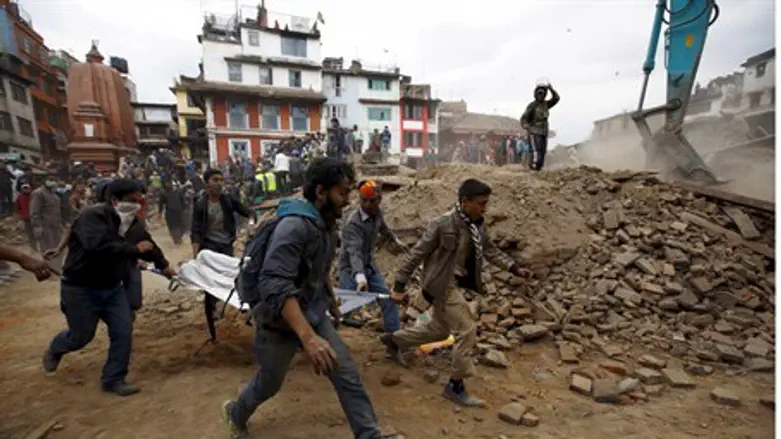 Emergency work in Nepal (file)
Reuters
Israel said Sunday it planned to airlift 25 infants from quake-hit Nepal born to surrogate mothers, along with their Israeli parents.
Officials said Israel was sending a military delegation to offer aid and help repatriate its citizens from Nepal following the quake that has claimed more than 2,500 lives, reports AFP.
Foreign ministry officials said there were 600-700 Israelis in Nepal, as well as the 25 babies recently born in Kathmandu - four of them prematurely - to surrogate mothers from India.
Nepal has become a destination for couples seeking to have children through surrogate mothers, though the practice is controversial, with critics claiming it exploits the poverty of women.
Priority for repatriation would be given to the infants and their Israeli families, interior ministry spokeswoman Sabine Hadad said, saying they would be "the first on the plane."
Foreign ministry spokesman Paul Hirschson said officials were doing "everything to bring the babies to Israel," while stressing that the timing of their return was subject to health considerations and legal issues.
Three of the babies were to be flown to Israel, along with eight family members, later on Sunday, he said.
Interior Minister Gilad Erdan (Likud) pledged to help all the babies to reach Israel, where they would undergo DNA testing to confirm their parentage.
Such a procedure would normally take place in Nepal.
Israeli Tamar Rotem said her sister Noa Roth - whose baby girl was born prematurely via an Indian surrogate three days ago - was among the Israelis waiting to be airlifted.
She said Roth and her baby had spent the night in a makeshift tent outside the Kathmandu hospital.
"We don't know how the premature babies are being fed. We're very worried," she said.