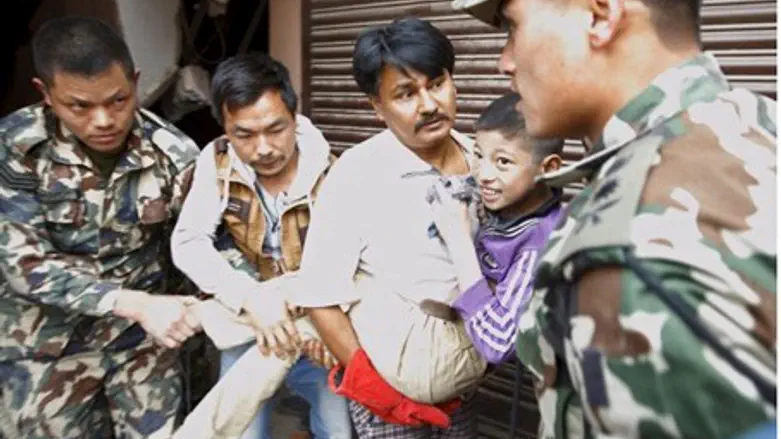 Boy rescued in Nepal.
Reuters
El Al Director David Maimon announced Saturday evening that in response to a request from the Defense Ministry, the airliner will send two 747-400 Jumbo Jets to Nepal at 5:00 p.m. Sunday, following the earthquake that has killed close to 1,500. The planes – a passenger jet and a cargo jet – will carry an aid delegation from the Homefront Command and the Ministry of Defense, along with its equipment and supplies.
The return flight is expected to carry survivors of the disaster as well as about 25 babies born in Nepal in recent days through surrogacy procedures, together with their parents.
El Al has had to change its flight schedule because of this development and it apologized to passengers for the inconvenience.
Shortly after receiving word of the disaster, Prime Minister Binyamin Netanyahu held an assessment of the situation, via telephone, with Foreign Minister Avigdor Liberman and Defense Minister Moshe Yaalon. It was agreed to dispatch – as soon as possible – a rescue delegation including medical elements.
The IDF National Search and Rescue Unit, under the Home Front Command, is a highly skilled force trained to execute special search and rescue missions, both in Israel and abroad. 
The unit is comprised primarily of reservists who are always on call, with prepared kits to enable immediate departure, and a small core of soldiers in mandatory service. In addition to the rescue teams, the unit employs doctors, engineers, mechanical engineering equipment operators and rescue dog handlers.
One of its most memorable actions to date was the response to the January 2010 earthquake in Haiti. The IDF field hospital established on the ground in Haiti was credited by many observers and media for providing the most effective emergency services of all the teams there. The IDF aid delegation in Haiti included search and rescue teams, a maternity ward, intensive care units, pediatrics, surgeons, pharmaceutical supplies and more.