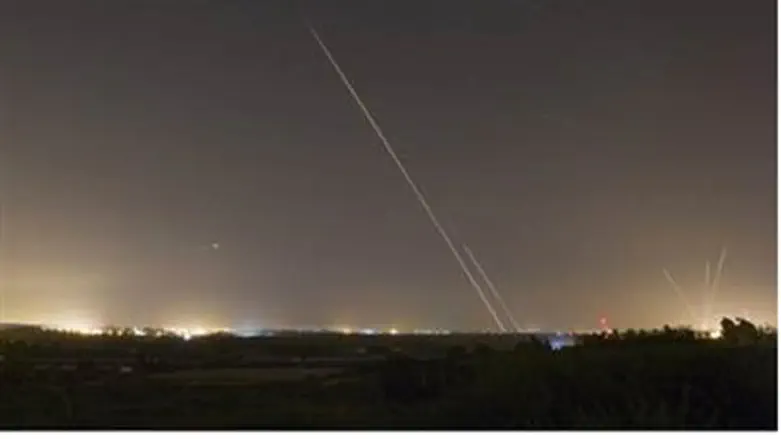 Rockets fired from Gaza
Reuters
The IDF has confirmed that at least one terrorist rocket was fired from Gaza at southern Israel Thursday. There have been no reports of injuries or damage.
The Color Red sirens went off in and around Sderot. Residents reported hearing explosions. 
The remains of the rocket were located in an open area in the Sha'ar Hanegev region.
The last time a Color Red siren was heard in the Gaza Belt region was in late December – four months ago. In response, IAF jets attacked Hamas training grounds in Khan Younes, in the southern Gaza Strip.
Housing Minister Uri Ariel called on Prime Minister Binyamin Netanyahu to repsond forcefully to the rocket attack, "so that the event does not again turn into a series of drizzles that will upset the routine and security of residents of the South."
MK Miri Regev (Likud) also called for a tough response, saying: "We must not let the terror organizations raise their heads."
The Head of the Sdot Negev Regional Council. Tamir Idan, said that the sound of the sirens was a "chilling" one for residents and that he expects the political echelon "to authorize a serious and meaningful reaction to this rocket fire and any other that may occur in the future."
MK Haim Yelin (Yesh Atid), the former head of the Eshkol Regional Council, said that for the residents of the Gaza Belt, "Israel's 67th Independence Day is still a day without hope." He called for an iron fist against terror, but also for diplomatic action to achieve an agreement that offers "a horizon of quiet and security."