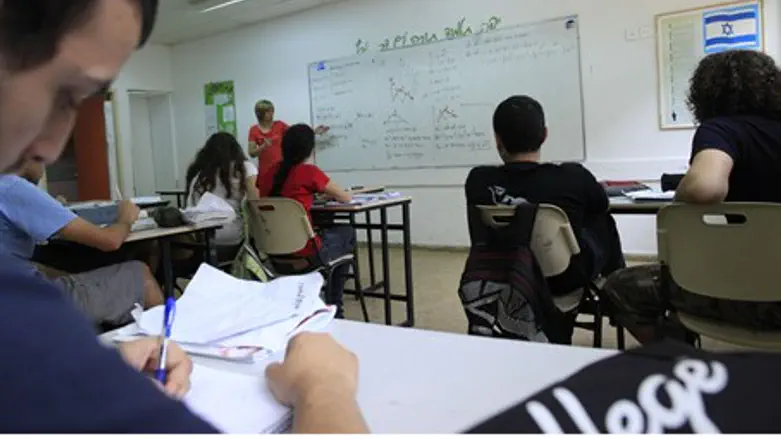 Classroom (illustrative)
Israel news photo: Flash 90
The Center for Academic Studies at Or Yehuda is under fire on Tuesday, after a slide from a Master's-level class on Education stereotyping inter-ethnic marriages went viral on social media. 
The slide stereotypes marriages between Sephardic Jews ("based on a clear division of family roles"), an Ashkenazic man and a Sephardi woman ("He comes from a liberal education, she from a traditional one; there is no conflict - he receives warmth and love, she receives a spirit of openness and progress - what they each lacked at home"), a Sephardic man and an Ashkenazic woman ("The traditional husband wants the wife to cook and look after the children, but the woman wants openness and progress"), and Ashkenazic Jews ("typically, the marriage is based on emotions"). 
The post went viral after being published on the Facebook page B'Mizrach (במזרח), in a post in which the authors assumed that the slide was presenting the stereotypes as fact. 
An administrator at the college told Walla! News on Tuesday that the post has inspired a flood of student complaints. "This is a subject which should never be addressed in any course in our institution," she said. "This was sent to the Superintendent, who is taking care of the issue." 
Meanwhile, the college's official response claims that the slide was taken out of context. 
"The material was taught in a lesson intended to start a class discussion about societal stereotypes, and do not reflect the personal opinions of the lecturer," the college stated.