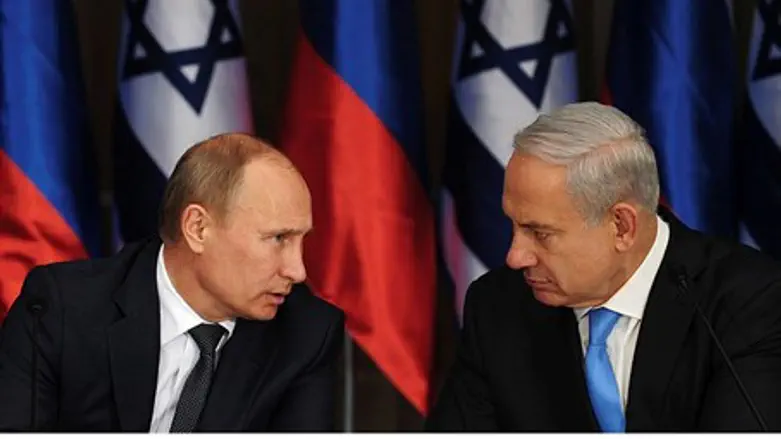 Putin and Netanyahu
Flash 90
Prime Minister Binyamin Netanyahu has decided not to attend Russia's victory parade marking the 70th anniversary of the end of World War II on Saturday May 9, Kol Israel reported Monday.  
The leaders of the United States, France, and Germany have also stated their intentions not to attend the event. 
The absences of those leaders, as well as those of other world leaders and high-ranking officials, stem from tensions over Moscow's continued military intervention in Ukraine.
But Israel's reasons for not sending a high official may be more tied to Russia's recent sale of S-300 missiles to Iran, against Israel's wishes, rather than the Ukrainian conflict - so allege angry Russian officials in claims implicitly corroborate by Israeli officials. 
According to Haaretz, citing a senior source in Jerusalem, the Israeli government has been debating for two weeks over who to send to the ceremony. 
Both Prime Minister Netanyahu and Foreign Minister Avigdor Liberman were nixed, so as not to anger the US and other Western countries who had decided to only send low-level officials. 
In place was suggested Absorption Minister Sofa Landver, but then suddenly this weekend the Foreign Ministry informed Russia that Israel's ambassador to Moscow, Dorit Goldner, would be the Jewish state's official representative at the ceremony. 
While there were additional reasons for choosing Goldner, officials in Jerusalem said the decision to send a low-level representative, days after Russia went ahead with the sale to Iran, was no coincidence. 
Indeed, despite speaking directly to Russian President Vladimir Putin over the sale last Tuesday, Netanyahu displayed sharp anger at Russia on Sunday, saying Israel viewed its decision to send S-300 missiles to Iran "with great severity."