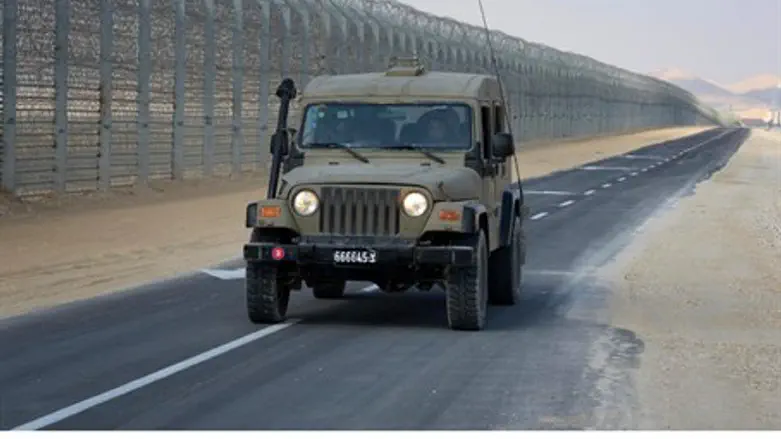 Israel-Egypt border (file)
Flash 90
An Egyptian court on Sunday sentenced to jail a man convicted of "spying for Israel" in the Sinai Peninsula, judicial officials said, according to AFP.
Two Israeli accomplices of the jailed Egyptian were tried in absentia and also given life terms, the officials added.
In a verdict delivered by a court in North Sinai, the three were also slapped with fines of 10,000 Egyptian pounds (about $1,130) each. In Egypt, a life sentence amounts to 25 years.
Prosecutors said the convict, Salamah Mohamed Suleiman, received money and was also given a house in Israel in return for providing his Israeli handlers with information about Egyptian security forces and jihadists in North Sinai.
Suleiman also illegally travelled to Israel five times -- the first visit being in 2011 -- to work out the details of his mission that intended to "harm Egypt's national interests", the prosecution said, according to AFP.
Sunday's verdict comes several weeks after an Egyptian man was sentenced to life in jail and a woman to 15 years for spying for Israel.
Their two Israeli handlers were sentenced in absentia to life in jail.
In two other cases over the past few months, an Egyptian and a Jordanian telecommunications engineer have been jailed for 10 years on similar charges.
Regarding espionage charges, this is far from the first time Egypt has found a way to blame Israel's Mossad intelligence agency for meddling - back in 2010, a governor in the country famously accused Mossad of sending sharks to attack tourists and harm the economy. Later, a stork was detained by Egyptian police over fears that it was being used by Israel for spying.
In October 2011, Israel freed 25 Egyptians in exchange for Israeli-American Ilan Grapel who was detained for four months on similar charges in Egypt.