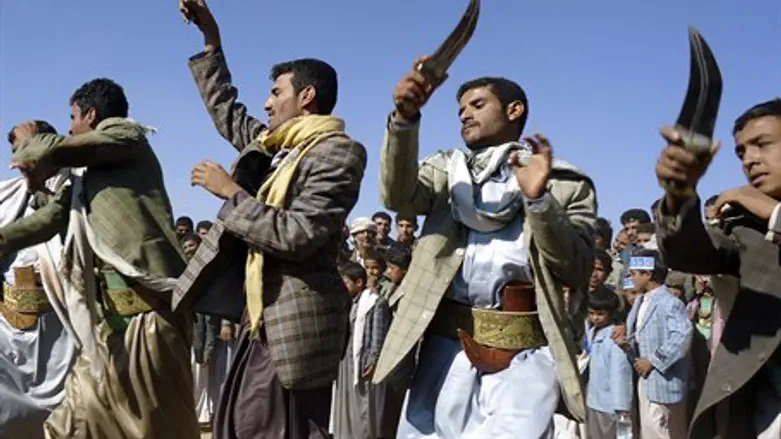 Houthis dance in Yemen (illustration)
Reuters
As Iranian ships steam towards Yemen for a possible showdown with Saudi Arabia, the country's Supreme Leader Ali Khamenei dismissed what he termed "American threats" as "stupid lies." In a speech to Iranian forces, Khamenei pointed to comments by U.S. security officials this week, to the effect that "America is leaving all its options on the table, and on the other hand they say they want us to stop defending ourselves. This is a stupid comment."
"The Iranian nation has proven that it always defends and protects itself with all its might when it is under attack," said Khamenei. "It stands against all illogical invaders, and united it is like an iron fist." On Sunday, Khamenei raised the security level in Iran, calling up and deploying reserves throughout the country, in the event the country is attacked, he was quoted as saying.
Khamenei was apparently responding to comments by Defense Secretary Ashton Carter last week. "We're assisting the Saudis to protect their own territory and to conduct operations that are designed to lead ultimately to a political settlement to Yemen," said Carter.
The U.S. has imposed an arms embargo on the Yemeni Houthi rebels, who have taken over most of the country, replacing Yemen's legitimate government. Iran has vowed to assist the rebels, but has not been caught smuggling weapons into Yemen yet. U.S. forces have boarded several of the Iranian ships off Yemen's coast – consensually, the Navy said - looking for weapons, but have not found. "We will continue to vigilantly defend freedom of navigation and to conduct consensual searches in an effort to ensure that drugs, human trafficking, weapons trafficking and other contraband are limited," a U.S. Navy official was quoted in The Hill as saying.
Meanwhile, seven to nine Iranian frigates are reportedly making their way to the Yemen coast, and there are concerns that they will try to defy the naval blockade Saudi Arabia, along with Egypt, has imposed on Yemen. U.S. officials said that they were not planning to get involved, but in the event that a battle breaks out, the U.S. will "examine the situation carefully," officials were quoted as saying.
Speaking Sunday, Khamenei said that the United States and "the Zionist entity" were "the greatest threats to the world and the region." Turning his attention to the framework on nuclear work drawn up in Lausanne several weeks ago, Khamenei said that Iran would "never" allow international inspectors into its military installations, for fear that "spies" will "steal Iran's secrets and compromise our security."