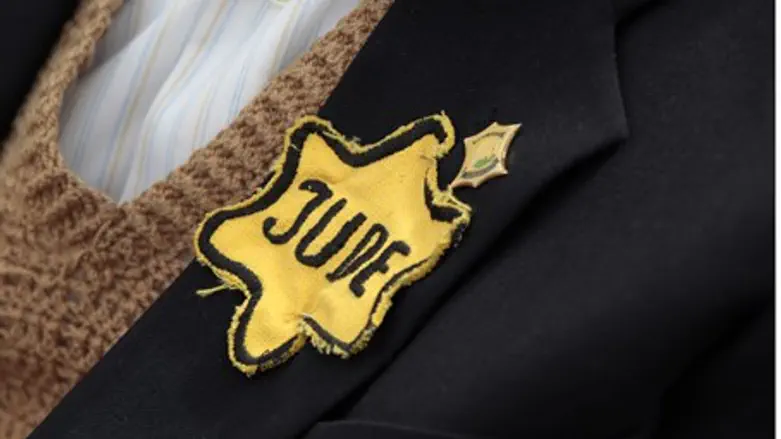 Yellow star (illustrative)
Reuters
While Israeli and foreign media slammed a Rishon Lezion teacher who had her kindergarten students wear a yellow star on the eve of Holocaust Memorial Day, parents of children in the Ilan Poreach ("budding flower") kindergarten and nursery have expressed strong support for the teacher. The Facebook of the Rishon Lezion municipality was filled with messages of support for the teacher, who had been suspended last week after a parent complained about the matter.
The brouhaha began when a mother posted an image of her three year old wearing the yellow star, which the Nazis forced Jews to wear during the Holocaust era. According to the teacher, she instructed the children to wear the star as an educational tool to express to them what Holocaust Memorial Day was about, and how Jews were isolated and singled out for persecution.
According to the parent, who contacted several Israeli media outlets, this method of teaching the Holocaust was "unacceptable," because it was "inappropriate" for children that age. The story was picked up by media in Israel and abroad, and in response the municipality suspended the teacher, and summoned her to a dismissal hearing.
But parents of many of the 20 children in the kindergarten class have come to the defense of the teacher. On the city's Facebook page, dozens of messages of support appeared over the weekend, with parents calling the suspension and possible dismissal of the teacher "crazy. All children should be required to wear the yellow star on Holocaust Memorial Day," wrote one parent. "Doing so would solidfy the message of the day and ensure that children identify with the Holocaust. If there were more teachers like this, students would have a much stronger connection with their history."
Another parent asked the municipality not to "fold before the populistic and hysterical pressure. Do not harm this teacher's ability to earn a salary. You could disagree with her methodology, but it isn't a reason to fire her." Yet another parent wrote that "creativity is not a crime, and a different approach to education than going by the book is not a reason for dismissal. You could say that she made a mistake, these things happen. All the rest is media hysteria."
Also expressing support for the teacher was Meir Indor, head of the Almagor terror victims organization. In a letter to the municipality, Indor wrote that "nothing happened to the children. We are much better off with teachers who creatively try to teach values than those who are passive and just go by the book."