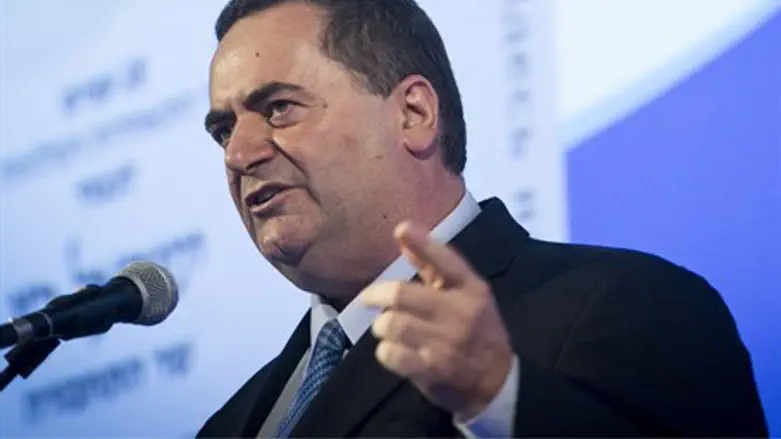 Yisrael Katz
Miriam Alster/Flash 90
Transportation Minister Yisrael Katz (Likud) condemned the request by 16 of the 28 EU states to have "settlement" products from Judea and Samaria labeled, in an economic attack on Israel that was revealed on Thursday.
Writing on his Facebook page, Katz noted Friday that "European Union foreign ministers decided to boycott Israeli produce whose 'source is in the settlements'! Not Syrian produce of (Bashar al-)Assad, not Gaza (produce) of the Hamas murderers, or of any other murderous terror regime in the world. Only Israeli produce."
"What do select Medjool dates raised in the Jordan valley, or products made in Ariel and Ma'ale Adumim (most while providing a livelihood to Palestinian workers), have to do with politics?" posed the minister.
Katz berated "European hypocrisy, nourished by a combination of ancient anti-Semitism and new Islamic influence."
The 16 EU foreign ministers who signed on a letter calling for EU foreign affairs head Federica Mogherini to press the labeling represented Britain, France, Spain, Italy, Sweden, Malta, Ireland, Portugal, Slovenia, Croatia, Finland, Denmark, The Netherlands, Luxembourg, Austria and Belgium.
Continued Jewish presence in Israel's Biblical heartland "threatens the prospect of a just and final peace agreement," they claimed in the letter, adding that labeling would make it clear to consumers what they were buying as endorsed by EU leaders at a summit in 2012.
Despite the EU claims, the 2012 Levy Report proved proved conclusively that the Jewish presence in Judea and Samaria is legal according to international law. Even though the report was commissioned by Binyamin Netanyahu's government, it has yet to be adopted.
Yesh Atid chairperson Yair Lapid slammed the labeling call, declaring "there is no difference between products manufactured beyond the Green Line and products manufactured within the Green Line," in terms of the economic damage to Israel.
"This kind of a call is a stain on the European Union and Israel should fight to prevent this dangerous process," he added.
Likewise a senior Israeli diplomat told the EU "labeling products from Judea and Samaria is a yellow badge," referencing the "Jude" stars the Nazis forced Jews to wear during the Holocaust. Thursday marked Holocaust Remembrance Day.