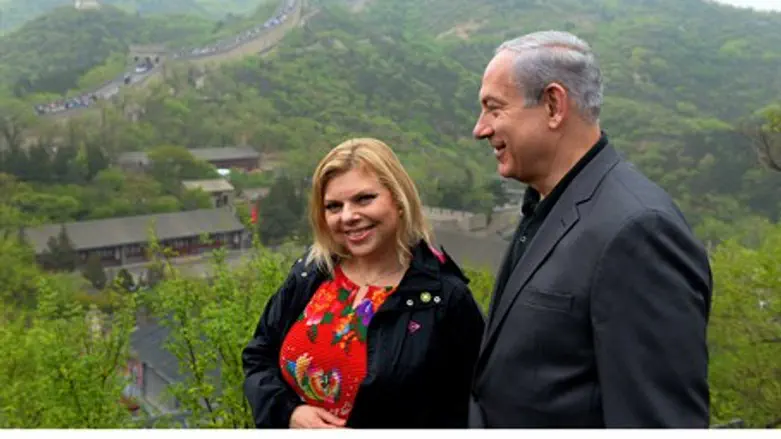 Binyamin and Sarah Netanyahu at China's Great Wall
Avi Ohayon/GPO/Flash 90
Israel's decision to apply to the Asian Infrastructure Investment Bank (AIIB), despite Washington's displeasure, indicates its desire to build its economic ties with Asia.
So states a position paper published by the BESA (Begin-Sadat Center for Strategic Studies), authored by East Asian security expert Dr. Alon Levkowitz.
Two weeks ago, Prime Minister Netanyahu – currently also Finance Minister until he forms his new government – signed the official application to join the Chinese-led AIIB. 
This, in the face of Washington's failed attempt to convince its allies not to join the AIIB. 
However, Levkowitz writes, "the decision to apply demonstrates Israel's understanding of the rising importance of Asia, especially China, to Israel's economy."
Additional Israeli moves to improve relations with Asia include negotiating free trade agreements with China, Japan and South Korea.
The new bank is viewed by many as an important indicator of the changing economic and global balance of power, appearing as a threat to the World Bank. Some feel that that the AIIB symbolizes a global financial shift towards China, and even further that it indicates the gradual decline of the United States in Asia and around the world. 
Two previous attempts to form an Asian-led international bank – one which was supported by China and Malaysia, and another that was backed by Japan – were thwarted by US-Japan and US-China alliances, respectively. 
Besides Israel, many American allies have decided to join the AIIB in spite of Washington's objections. These include South Korea, Britain, France, Germany, and Saudi Arabia.
Noticeably remaining on the outside is Japan – though Levkowitz writes that it is likely that both the US and Japan will eventually join the bank as well. 
Levkowitz concludes: "The Israeli government's decision to apply to the AIIB, despite Washington's reticence, shows that it understands that it cannot afford to be left out of Asia's economic rise. Once its application is approved, Israel will be able to initiate projects in Asia through the AIIB and assist Israeli companies in the process, thus increasing its relations in Asia."