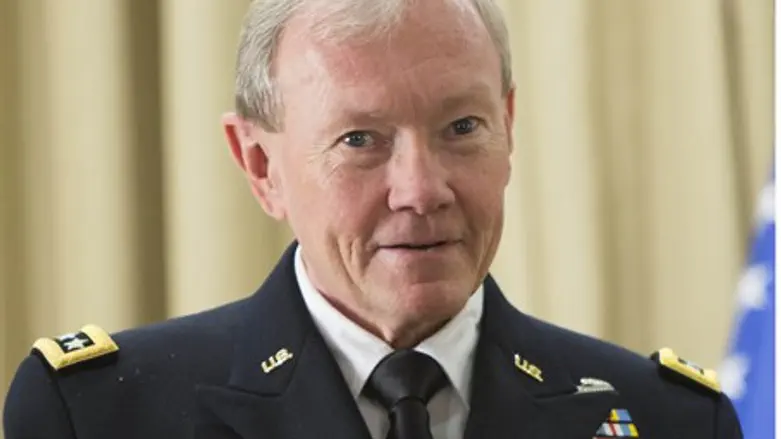 Martin Dempsey
Flash 90
The top United States military officer said Thursday that delivery of Russian S-300 air defense missiles to Iran will not affect America's ability to strike at Tehran's nuclear facilities if necessary.
"We've known about the potential for that system to be sold to Iran for several years and have accounted for it in all of our plans," General Martin Dempsey, chairman of the Joint Chiefs of Staff, was quoted by AFP as telling a news conference.
The United States for years has refused to rule out possible military action to stop Iran from acquiring nuclear weapons if diplomacy fails. Dempsey said the military option would not be undermined by Russia's decision this week to supply Iran with the sophisticated S-300 missiles.
"The military option that I owe the president to both encourage a diplomatic solution and if the diplomacy fails to ensure that Iran does not achieve a nuclear weapon is intact," Dempsey added.
Russian President Vladimir Putin on Monday signed a decree lifting a ban on the delivery of S-300 anti-missile rocket systems to Iran.
Russia cancelled a contract to deliver the missile system to Iran in 2010, under pressure from the West following UN sanctions imposed on Iran over its nuclear weapons program. Putin explained on Thursday that his decision was motivated by Iran's drive to find a solution in talks over its nuclear program.
Putin's comments come two days after Prime Minister Binyamin Netanyahu phoned him to express Israel's great concerns over the deal. In the phone call, Netanyahu warned Putin that the sale will increase Iran's aggression in the region and shake the security of the Middle East.
Washington also voiced concern over the deal, but Iran hailed the decision as a step towards "lasting security" in the region.
Although the S-300 would provide a major improvement for Iran's air defense network, it remains unclear if the missile would be a match for America's stealthy F-22 fighters and bombers, experts say.