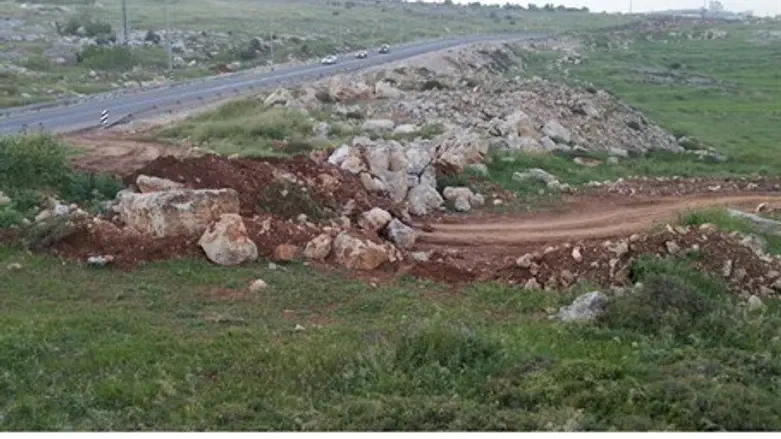 Illegal access to Highway 60 blocked
Regavim
IDF soldiers on Tuesday blocked off an illegal road paved by Palestinian Arabs between an illegal Arab quarry and Highway 60, adjacent to the Jewish community of Ofra in Samaria's Binyamin region.
In recent weeks, Mustafa Tarifi, a Palestinian Arab entrepreneur, has been operating a large quarry between the Arab village of Deir Dibwan and Ofra, without any license or legal authority to do so.
The quarry was located in Area C, which is under full Israeli administration according to the 1993 Oslo Accords.
After an order requiring the closure of the quarry was issued, the Palestinian Arabs moved their quarry work into Area B, which is under Palestinian Authority (PA) civil administration, and where the IDF's Civil Administration has no enforcement authority.
Despite numerous requests by Ofra residents to the Civil Administration, the illegal road leading to the quarry was left open and operational.
In recent days, residents reported that heavy equipment has been driving from Highway 60 on to the illegal road, endangering drivers on the highway in the process.
As a result, Regavim, an NGO that supports Jewish land rights, petitioned the High Court, calling for urgent enforcement against the dangerous illegal by-road. This enforcement was finally carried out.
"The IDF activity was required," Regavim said in a statement. "Not only is the road illegal but it also is dangerous to those traveling on the 60 Intersection - Israelis and Palestinians."
"It's unfortunate that in such a clear case of a dangerous offense, only a petition to the High Court caused enforcement sources to carry out their duties."