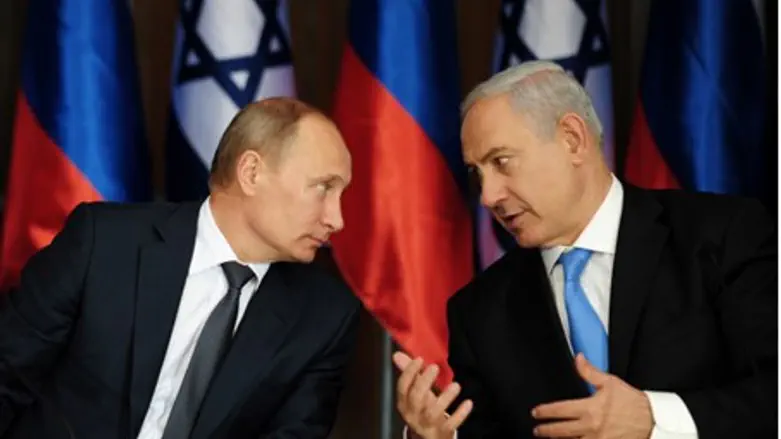 Binyamin Netanyahu, Vladimir Putin
Reuters
Prime Minister Binyamin Netanyahu called Russian President Vladimir Putin on Tuesday evening, after Putin on Monday lifted a self-imposed ban on a sale of advanced S-300 anti-missile batteries to the Islamic regime of Iran.
In the call, Netanyahu expressed Israel's great concerns over the deal, warning Putin that the sale will increase Iran's aggression in the region and shake the security of the Middle East.
His talk of greater regional tension comes as Iran has been been extending its influence through Hezbollah in Lebanon, the Houthis in Yemen, Shi'ite militias in Iraq and its own troops together with Hezbollah in Syria.
But Putin didn't appear to be too receptive to the message, explaining to Netanyahu his "logic."
The Kremlin announced the call in a statement, saying "a telephone call between Russian President Vladimir Putin and Israeli Prime Minister Benjamin Netanyahu took place at the initiative of the Israeli side. In connection with concerns over the removal of an embargo expressed by Benjamin Netanyahu, Vladimir Putin explained in detail the logic of actions of the Russian leadership."
Around the time of the phone call, Netanyahu released the following statement: "this sale of advanced weaponry to Iran is the direct result of the dangerous deal on the table between Iran and the P5+1. Can anyone still seriously claim that the deal with Iran will enhance security in the Middle East?"
The S-300 system is considered to be a game-changer, in that it would allow Iran to shoot down ballistic missiles aiming to strike its covert nuclear program, which a deal being sealed with world powers will leave completely intact.
The system is also able to shoot down planes, meaning it could destroy jets trying to strike the nuclear facilities.
For its part, the US has responded to the lifting of the ban with statements of concern and admonition. The ban on the sale was made in 2010 after US President Barack Obama pressed Russia to desist, in what the White House touted as a "restart" of its ties with Russia.
But Obama has apparently abandoned his "red lines," given that a senior Obama official back in 2010 said the sale is a "red line" which the US would be unwilling to cross.
So far the US has not indicated willingness to take any action to defend those lines, with State Department spokesperson Marie Harf instead saying the sale won't have an impact on "unity" between the US and Russia in negotiating a nuclear deal with Iran.
Top Iranian officials indicated last week that as soon as a deal is signed, they will start using advanced IR-8 centrifuges that are 20 times as effective as standard ones, meaning they would be able to rapidly achieve a nuclear arsenal.