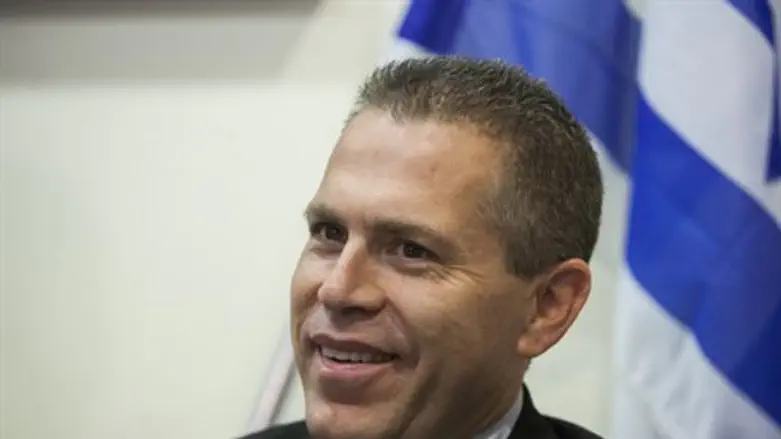 Interior Minister Gilad Erdan
Yonatan Sindel/Flash90
Minister of Interior Gilad Erdan said Tuesday that to the best of his knowledge, the report that Prime Minister Binyamin Netanyahu and Labor Chairman MK Yitzhak Herzog met recently is not true.
The report about the meeting was carried by Channel 1 and submitted by veteran political correspondent Ayala Hasson, who is also the director of Channel 1's news division. Hasson said that the two men met behind closed doors in recent days and that the meeting did not take place in either politician's office, and that few of the people surrounding the men were aware of it.
The meeting does not mean that a "unity government" is imminent, Hasson stated. A major obstacle to such a government, she said, is Tzipi Livni, whose behavior in the last government was a major factor in its downfall.
Speaking on Army Radio, Erdan said that if Likud's "natural partners" do not become more flexible in their demands in the coalition talks, the party will have no choice but to turn to Labor, which currently brands itself as "The Zionist Union".
"We say all of the time that as the days pass and the 'national camp' parties fail to compromise, the prime minister will have no choice and he will have to make a generous offer to the Zionist Camp, although that is not our favored option," explained Erdan.
The report about the meeting, whether true or not, may have resulted from a leak intended to put pressure on Yisrael Beytenu head Avigdor Liberman and Jewish Home Chairman Naftali Bennett, to be more flexible in their demands. Both Bennett and Liberman want the Foreign Affairs ministry.