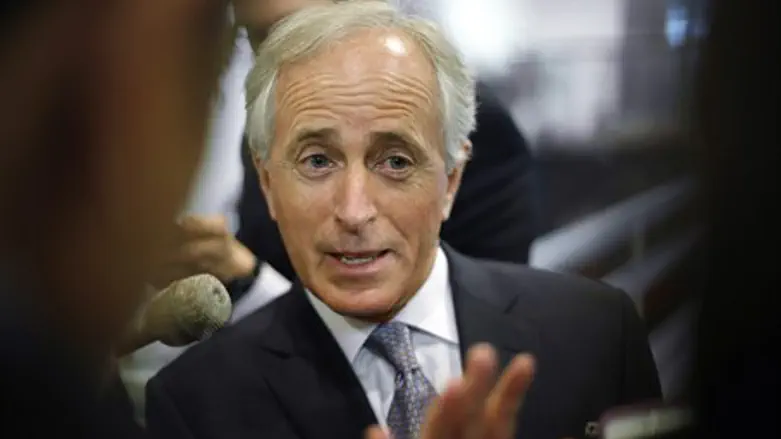 Senate Foreign Relations Committee Chairman Bob Corker
Reuters
Leading Democrats and Republicans on the Senate Foreign Relations Committee are nearing a deal on legislation that would allow Congress to review any nuclear agreement with Iran, according to Politico. If this agreement is achieved, the chances that the bill will receive a veto-proof majority will be greatly improved.
"Key congressional negotiators are confident they can strike a bipartisan agreement," reports the website, hours ahead of the committee vote on the bill, which would allow Congress to block President Barack Obama from quickly lifting legislative sanctions on Tehran.
The current haggling between Republicans and Democrats centers on the length of the time period that Congress would have to debate any deal reached with Iran before sanctions are lifted.
Foreign Relations Chairman Bob Corker (R-Tenn.) is reportedly now willing to allow this timetable to be shorter than the 60-day waiting period specified in earlier versions of his bill.
Another concession the Republicans are mulling would be a softening of the requirement that the administration certify that Iran is not directly sponsoring terrorism against the United States.
"I don't want to ever commit and under-deliver — and I don't think I ever have. We are moving in a very positive direction and we've worked through some issues that give me a lot of hope," Corker told reporters on Monday evening. "I think we've been successful in that if we bring it to the floor, we'll have a positive vote."
Corker "spent the weekend negotiating with Sen. Ben Cardin of Maryland, the panel's ranking member, and Sen. Robert Menendez of New Jersey, the former top Democrat on the panel who co-wrote the bill with Corker. Those talks appear to have borne fruit," according to Politico.
"I'm hopeful for tomorrow we'll have an agreement," Cardin said, after discussing the matter with fellow Democrats. "I think we can get to a place where we deal with the White House's concerns, and maintain the purpose of the bill."
House Majority Leader Kevin McCarthy (R-CA) on Monday also expressed support for the bill. McCarthy said he would bring the bill to the House floor if the Senate approves it.