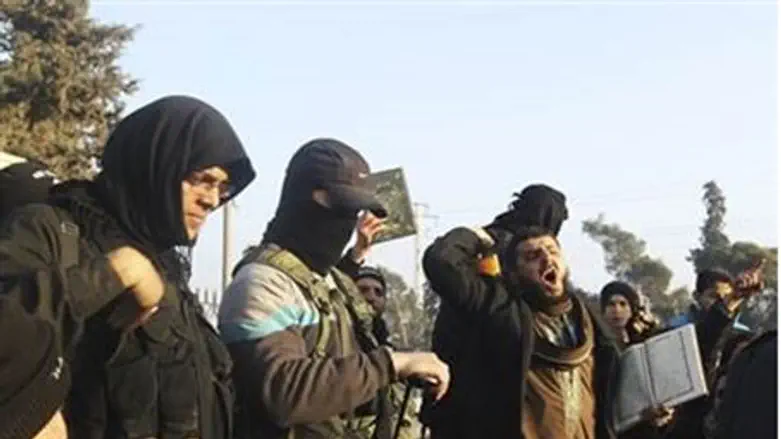 Fighters from the Islamic State in Iraq and the Levant
Reuters
The UN's cultural agency issued a fresh condemnation Monday of jihadists' destruction of Iraq's Nimrud, once the jewel of Assyria and home to a treasure considered one of the 20th century's main archaeological finds.
"I condemn this mad, destructive act that accentuates the horror of the situation," UNESCO head Irina Bokova said in a statement.
The Islamic State group on Saturday circulated an undated video showing militants equipped with sledgehammers and power tools breaking artifacts before rigging the site with large barrels of powder.
The subsequent footage shows a massive explosion and its aftermath, suggesting the ruins of Nimrud - which lie on the Tigris about 30 kilometers (18 miles) southeast of ISIS-held Mosul -- were largely leveled.
Nimrud, founded in the 13th century BC, is one of the most famous archaeological sites in a country often described as the cradle of
civilization.
"With their hammers and explosives they are also obliterating the site itself, clearly determined to wipe out all traces of the history of Iraq's
people," Bokova said.
Iraqi government reports of Nimrud's destruction emerged in early March, when the UNESCO chief branded the ISIS's violence against the ancient the site as a "war crime." 
Bokova repeated the charge on Monday, after the full extent of the crime became known.
"We will do everything possible to fight against this and document it, to ensure that those responsible are identified and brought to justice," she said.
Nimrud was on UNESCO's tentative list of world heritage sites.
Most of the city's priceless artifacts were moved long ago to museums but giant "lamassu" statues - winged bulls with human heads - and reliefs were still on site.
ISIS tries to justify the destruction of antiquities by saying they are idolatrous, but experts say the group traffics in them to fund its self-proclaimed "caliphate" and destroys only those pieces that are too bulky to be smuggled.
The UN Security Council in February adopted a resolution aimed at choking off financing for ISIS from antiquities trafficking as well as oil smuggling and ransom payments.
A ban on looted antiquities in Iraq was already in force, and was expanded to Syria under the resolution.