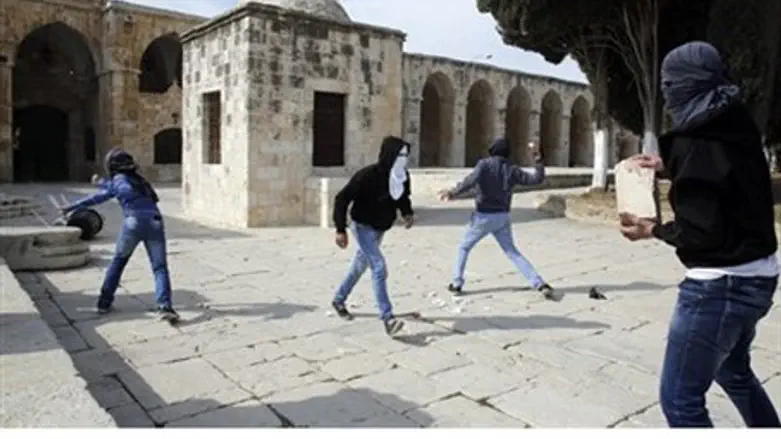 Muslim rioters on Temple Mount (file)
Sliman Hader / Flash 90
Using the excuse of "replacing carpets," the Waqf (Islamic Trust) on the Temple Mount began digging up the stone floor today inside the Mosque of Omar – the site of some of the most sacred areas of the two Holy Temples of Kings Solomon and Herod.
A small tractor was brought into the famous gold-domed structure and dug and removed earth there, with no permit to do so. Such work requires permission from and supervision by the Antiquities Authority, as well as approval from the Ministerial Committee on Archaeological Digs in Holy Sites.
Neither body was consulted beforehand, and certainly did not give approval.
The joint Temple Mount Movements umbrella organization, HaMateh HaMeshutaf, reports that any change in the floor, and certainly a penetration into the earth below, is liable to cause irreversible damage to the foundations of the Holy Temple and the surviving remnants of the Holy Temple periods. 
The Second Temple was built nearly 2500 years ago, and was destroyed in the year 68.
HaMateh HaMeshutaf accuses Israel Police of not doing its job in ensuring that the Waqf does not violate the sanctity of the place by using heavy machinery without Israeli supervision. "The police don't even allow Jews to move their lips in prayer while visiting the holy site," the organization stated, "yet ignores tractors and other digging work on the Temple Mount and the place of the Sanctuary."
The Antiquities Authority said the works were not coordinated with it, and added, "Further questions must be directed towards the police, who are the sovereign body there."