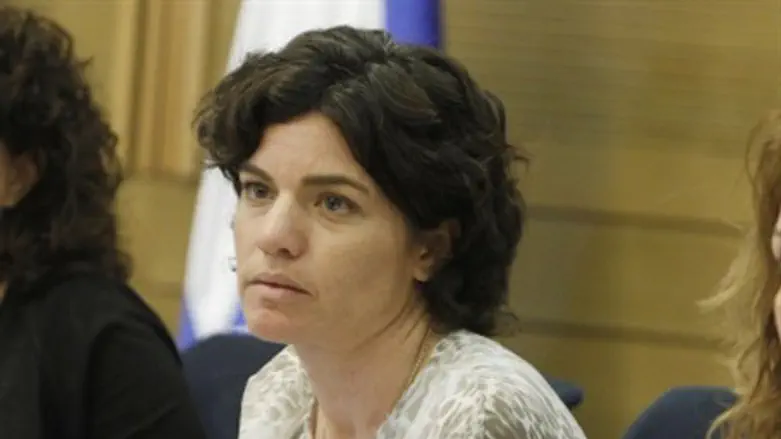 MK Tamar Zandberg
Flash 90
The public feud between MKs has deepened Monday, after MK Tamar Zandberg (Meretz) introduced a tit-for-tat bill designed to place her opponent, Transportation Minister Yisrael Katz, at a disadvantage. 
Last week, Zandberg announced her intent to propose a bill to introduce public transportation on Shabbat - an aim her party has been working toward for several years.
The announcement sparked fury from Katz - not to mention the religious public - who called the bill a move for "leftist hypocrites" and stressed his intent to keep Israel's "status quo" on religious matters to keep it a Jewish state. 
"Whoever is keeping the public from being mobile on Shabbat does not then get the chance, at the same time, to go on his own trips," Zandberg stated Monday, according to Channel 10. 
"Stop the hypocrisy and duplicity," she added. "Katz and ministers who oppose us, you leave us no choice. It looks as if only when your cars are sitting in lots will you understand why the public needs public transport on Shabbat." 
"The behavior of the Minister of Transport and other government ministers does not leave us a choice but to turn to a parliamentary move that would demonstrate the inequality here," she stressed. 

Zandberg will propose the bill as soon as the Knesset as back in session, she said. 
"Members of the government, headed by the Minister of Transport, hide behind the 'status quo' as an excuse for non-fulfillment of their duty to the public, but the arguments are irrelevant," she fired. "Shabbat will remain a day of rest - this is a Jewish value and socially important - but the question is whether Shabbat will be closed down by force or a day of relaxation and opportunity."