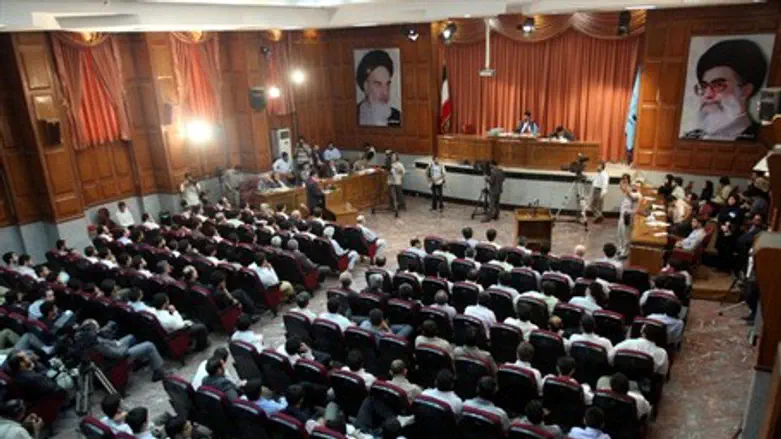 A courtroom at the revolutionary court in Teh
AFP photo
A Washington Post journalist detained in Iran for over eight months is accused of "espionage" and "acting against national security," The Associated Press (AP) reported Sunday, citing Iranian media.
The semi-official Fars news agency, which reported about the charges against Jason Rezaian, did not elaborate on the source of the information, but the agency is regarded as close to Iran's hard-liners.
Iranian officials have previously said Rezaian is facing "security" charges and that he will stand trial before the Revolutionary Court.
Rezaian's lawyer, Leila Ahsan, declined to comment on the specific charges against her client, but told The Associated Press she had finished studying the text of the indictment and would brief Rezaian's family in the coming days.
Ahsan added that she visited Rezaian in prison last month.
"He appeared to be in good health and spirits. I can see him anytime. Jason asked me to provide a strong defense. I'm in constant touch with his wife and family. I've requested that the court hold the trial as soon as possible," she told AP.
Rezaian, along with his wife, Yeganeh Salehi, and two photojournalists were detained on July 22 in Tehran. All were later released except Rezaian, who is a dual U.S.-Iranian citizen.
The Post, U.S. officials and Rezaian's family have all called for his release.
The Fars report alleged that Rezaian had obtained economic and industrial information from Iran and sold it to unnamed Americans. It also linked him to Omid Memarian, an independent Iranian journalist based in the U.S.
"Selling Iran's economic and industrial information at a time of sanctions is exactly like selling food to the enemy at a time of war," Fars claimed.
In an email to The Associated Press in New York, Memarian said he had been singled out in the Fars report because he has been outspoken about Rezaian's condition and his innocence since the journalist's arrest.
"Now that the Iranian intelligence has been incapable of presenting any proof that Jason did something wrong, they spread lies about him and his colleagues-friends to influence the upcoming court," he told the news agency.
Another American being held in Iran is dual U.S.-Iranian citizen Amir Hekmati, who was arrested in 2011, put on trial and found guilty of spying for the CIA. Hekmati's family and the U.S. government say the dual U.S.-Iranian citizen is not a spy and went to Iran to visit his grandmother.
He was subsequently sentenced to death, a penalty that was later overturned and reduced to 10 years in prison.