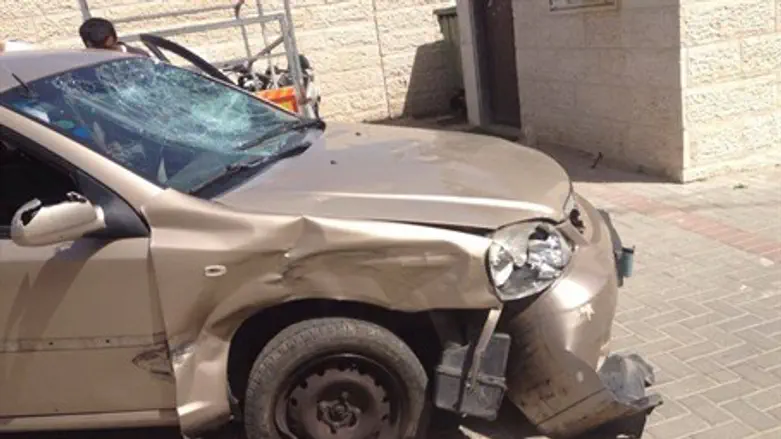 Remains of Athlan's car.
Courtesy Yonatan Athlan.
In an interview with Arutz Sheva, Maale Adumim resident Yonatan Athlan told of how he and his friends were nearly "lynched" - waylaid by Arabs who attempted to kill them. The incident occurred not in Judea and Samaria, but in northern Israel, part of pre-1948 "smaller Israel."
"It happened after we had traveled for two and a half hours on our way to a concert up north, and we stopped off at a gas station outside an Arab village, near the town of Hoshaya," located in the heart of the Galilee, on Route 77 between Hamovil Interchange and Golani Interchange. "An Arab youth came over to us and asked us what we were doing there, and other questions. One of my friends had gone to the restroom, and as he returned, the Arab attacked him – we can't say why.
"We managed to get control of the situation, but we saw that other vehicles began arriving, full of Arabs," said Atlan. "We decided to call the police."
Meanwhile, he said, the occupants of the vehicles were getting out of their cars, and many of them were carrying metal rods, bricks, and other weapons. "We decided that it was time to go, so we started driving and prepared to leave the station and make a U-turn."
Waiting at the exit was the youth who had attacked them in the first place. "He rammed our car with his vehicle, and then his friends began attacking our car with their rods. With great effort and luck we were miraculously able to escape. We managed to make it to the main road, and we stopped a car with a Jewish driver, who took us several kilometers down the road."
The car they had been riding in was completely broken down, and remained on the highway, after its engine had been damaged when the Arab attacker drove into them. Photos show the 2006 Chevrolet Optra after the event.
The car, said Athlan, was ripped apart by the Arabs, presumably for parts; he and his friends were happy to just escape with their lives.
Photos by Yonatan Athlan.
The 2006 Chevy Optra before the attack, and after:
Gil Ronen contributed to this story.