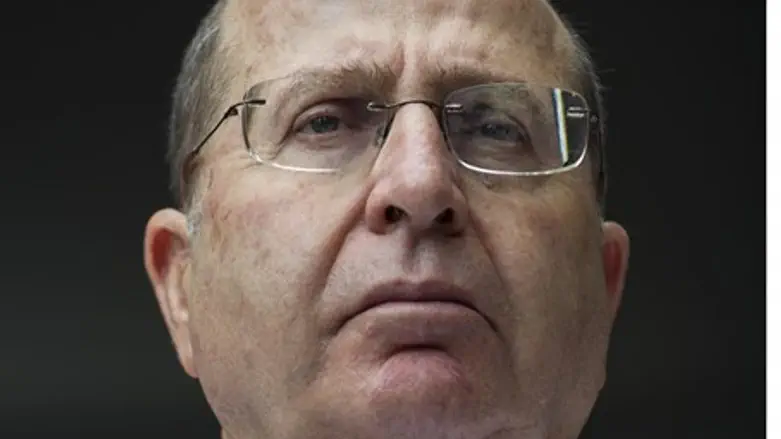 Moshe Ya'alon
Miriam Alster/Flash 90
In an interview with the Washington Post, Defense Minister Moshe Ya'alon asserted that claims by US President Barack Obama that the choice is either between his deal on limiting Iranian nuclear weapons, or war, were just untrue.
The objective of the deal for Iran, said Ya'alon, was to end Western sanctions on its economy. But the West should not be so quick to do so. "What about their being a rogue regime instigating terror all over the Middle East and beyond," asked Ya'alon in the interview.
"They are not involved in Afghanistan, Iraq, Syria or Yemen to serve American interests. This is not discussed. By rehabilitating the economy, they might feel confident to go on with these rogue activities, and at a certain point decide to break out from the deal and to have a bomb. That's why our prime minister said that no deal is better than a bad deal," he explained.
"We are concerned about the potential deal. Because the framework of this deal is about how many centrifuges should this regime have," Ya'alon noted.
"Why should they have the indigenous capability to enrich uranium? If they need it for civilian purposes, they can get enriched uranium from the United States or from Russia. Why do they insist on having the indigenous capability? Because they still have the aspiration to have a nuclear bomb."
Ya'alon also told the Post that giving up more land to the Palestinian Authority would not bring peace, but instead would be "another stage of the Palestinian conflict, as we experienced in the Gaza Strip. We disengaged from the Gaza Strip to address their territorial grievances. They went on attacking us. The conflict is about the existence of the Jewish state and not about the creation of the Palestinian one. Any territory that was delivered to them after Oslo became a safe haven for terrorists."
"Bearing that in mind, to conclude that after the [recent] military operation in Gaza this is a time for another withdrawal from Judea and Samaria [the West Bank] is irrational. If we withdraw now from Judea and Samaria, we might face another Hamastan," Ya'alon added.