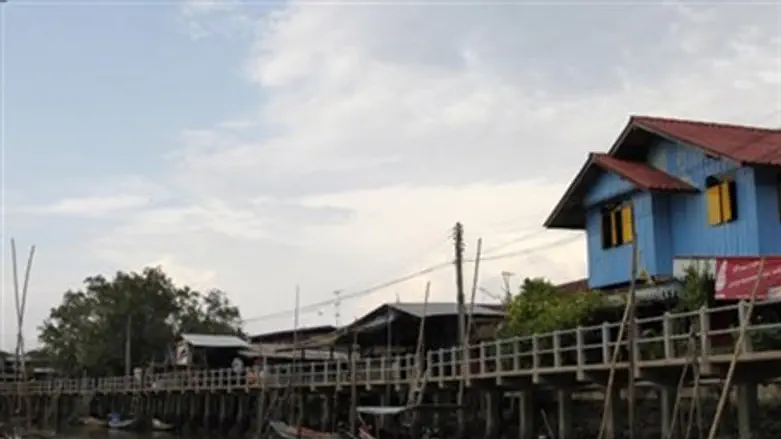 Thailand
Flash 90
The Israeli Consulate along with Chabad emissaries were on scene as the Thai Navy resumed searches Thursday morning for the 12-year-old girl believed to have died in a ferry fire off the coast of Krabi. 
Later Thursday morning, divers found the girl 18 meters under the sea still trapped inside the bathroom. Officials are now working to bring her body up to shore. She was the sole fatality in the disaster. 
Foreign Ministry officials and the family will accompany the girl's body on its return to Israel for burial as soon as possible.
"The search was called off yesterday evening during strong currents and darkness but it resumed today," Lieutenant General Decha Butnampetch, southern region police commander told AFP. 
"Divers found her body at around 11:00 am inside the toilet at the rear of the boat," he reported. 
The fire broke out Wednesday at approximately 3:30 p.m. local time, as the ship was heading back to Phuket. It began in the stern of the vessel and quickly spread. 
The girl, reportedly on a family vacation for her bat mitzvah, was in the bathroom when the fire broke out. She was locked inside as the ship burned, her family said. 
Other passengers, meanwhile, began jumping into the water to escape the flames. 100 passengers in total were rescued from the Andaman Sea. 
Chabad emissary in Phuket, Rabbi Eliezer Leinz, who was with the family during searches on Wednesday, was also on hand Thursday, providing comfort. 
According to Leinz, arrangements to bring their daughter's body home for burial were being expedited. "We are here with them to hug them, to be the Israeli representative who will stand by them during this difficult time,"he said.