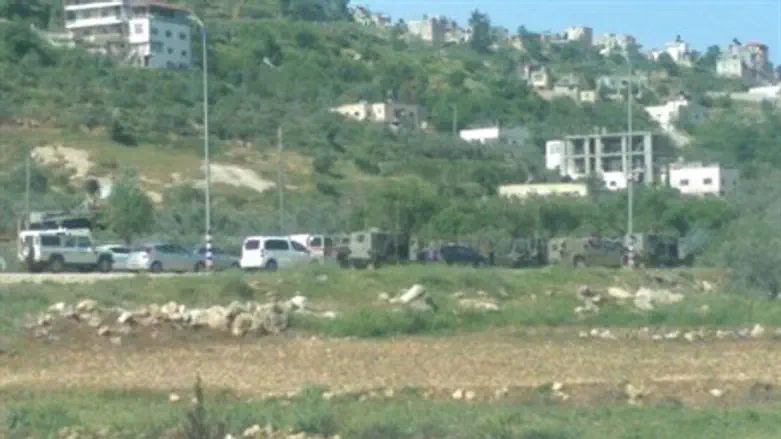 Scene of the stabbing
Photo by Y.V.
A terror attack took place in the Binyamin region, north of Jerusalem, Wednesday morning. 
An IDF soldier suffered serious wounds when he was stabbed in his upper body, according to initial reports. Reports say he was stabbed in the neck. Another soldier was lightly wounded in the attack.
The stabber was shot by IDF forces and died of his wounds, leading the IDF to comb the area for additional suspects.
Magen David Adom said: "At 10:07, MDA Jerusalem District was informed that a young man was stabbed on Highway 60, near  the entrance to the community of Maaleh Levona (near the village of Sinjil). MDA paramedics and medics have been giving a seriously wounded young man, aged about 20, initial medical care, and evacuating him to a Jerusalem hospital. 
Israel Hayom cites Palestinian sources that reported the IDF is chasing after three Arab terrorists who fled the scene of the stabbing.
"A soldier was seriously wounded after being stabbed in the neck near Shilo," a source told AFP, saying the Arab attacker had been
"eliminated".
He said two other soldiers had also been wounded and one was in moderate condition.
There has been a surge in the number of stabbings and other lone wolf attacks by Palestinians in Judea, Samaria and Jerusalem since last summer's 50-day war against Hamas in the Gaza Strip.
Previous stabbing
A Palestinian terrorist stabbed an IDF soldier at the Oranit Checkpoint along the Trans-Samaria Highway last Thursday afternoon.
The soldier, 22, was stabbed in the upper body, with some other reports saying he was stabbed in both the head and the legs. 
Maden David Adom medics from the Yarkon Region gave the soldier first aid treatment. He was brought to Beilinson Hospital in Petah Tikva in mild to moderate condition, and was conscious.
The soldier, a commander of a paratrooper unit, suffered cuts to both his head and his limbs. 
An initial investigation into the attack by security forces indicates that the paratrooper unit was dispatched to the area following the detection of six Palestinian illegals attempting to cross the security barrier and cross into Israeli-controlled territory. 
As they were being arrested, one of the Palestinians pulled out a knife on the commander of the unit and stabbed him. Despite being wounded and losing blood, the soldier managed to overpower the perpetrator. 
The terrorist, a minor from Tul Karm, was arrested by security forces and has been taken into custody for interrogation. He has no prior security record.