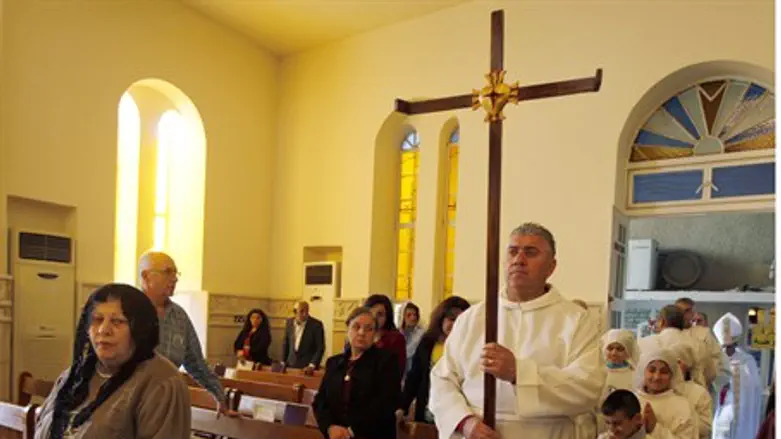 Iraqi Christians face extinction at the hands of ISIS
Reuters
After fighting with rebels in Libya and embracing the revolt in Syria, Matthew VanDyke has rolled up in northern Iraq, but the celebrity American revolutionary-cum-filmmaker has traded his fatigues for a three-piece suit.  
VanDyke, who rose to fame as a foreign fighter backing Libyan rebels against Muammar Gaddafi, has just finished leading his new military contracting firm through its first assignment: training Christian volunteers to take on jihadists.
Funded by Christian groups from abroad, mainly from the United States, the Nineveh Plains Protection Unit (NPU) aims to bring a local Christian militia to bear against the Islamic State group (also known as ISIS or ISIL) that has seized swathes of Iraq and Syria.
VanDyke is one of the best-known - and least camera-shy - figures in an expanding and complex constellation of foreign fighters, organisations and donors getting involved in a private war against the jihadists.
"This is an extension of my work as a revolutionary," he says as he takes a sip from his cappuccino in a cafe in the Kurdish capital of Arbil. "What gives somebody else the right to sit home and do nothing?"
The 35-year-old came to prominence in 2011 when he joined Libyan rebels in the fight to overthrow Gaddafi. He was held by regime forces in solitary confinement for more than five months.
The film "Point and Shoot" directed by Marshall Curry, which won the best documentary award at the Tribeca Festival last year, recounts the 35,000-mile motorcycle odyssey that led VanDyke to Libya and which he describes as "a crash course in manhood".  
Not one to shy away from self-aggrandizement, VanDyke's official website claims that his own documentary on the Syrian conflict, in which he volunteered in 2012, won no fewer than 82 prizes.
A few months ago, VanDyke changed tack and decided to form his military contracting firm, the Sons of Liberty International (SOLI), with the training of a few hundred NPU volunteers as a first assignment.
'Indigenous population'
The Nineveh in the NPU's name refers to a northern region which Iraq's Assyrian Christians and other religious minorities consider their ancestral home.
ISIS last year declared a "caliphate" over parts of Iraq and Syria it had seized, forcing hundreds of thousands of civilians to flee their homes, including many Iraqi Christians.  
The Sunni Islamist group has embarked on a systematic campaign to wipe out non-Sunni-Muslim minorities, including a massive campaign of ethnic-cleansing against Iraq's Yazidi minority, which some rights group say amounted to genocide. 
But Christians - in Iraq and Syria - have also suffered greatly at ISIS's hands, with whole communities driven to the brink of extinction. Earlier this year, in an illustration of its brutality against Christians, the jihadist group took several hundred Assyrian Christians hostage in northeastern Syria.
A US-led international coalition launched an air war on the jihadists in August and dispatched forces to train Kurdish and Iraqi federal troops who have since made ground with the controversial help of Iranian-backed Shia militias. Several days ago the anti-ISIS ground forces in Iraq scored their most significant victory yet, retaking the city of Tikrit after weeks of heavy fighting.
In the meantime other - less official - parties have been drawn into the conflict from abroad.  
The NPU, for example, is being funded by the American Mesopotamian Organization (AMO), a California-based group founded by Assyrian-Americans.  
It claims to have raised more than $250,000 for the NPU - which has not yet seen combat - since December through an initiative dubbed "Restore Nineveh Now".
More than 80 percent of the donations come from the United States, the group's chairman, David Lazar, told AFP by telephone from the United States.  
He says telethons on the Assyrian National Broadcasting satellite channel generated donations "as high as $50,000 from one person".  
As well as financing food, clothing and protection gear, the AMO has hired a "top five" private contracting firm to provide risk assessments and possibly advanced training to NPU recruits, he says.
Many of the donations are coming from members of the Assyrian-American community, like Joseph Baba, a car salesman from Tehran who has lived in the US since 2000 who donated a little less than $10,000 to the group.
"I'm a firm believer that the Middle East has to have this indigenous population," he says of Iraq's Christians, speaking to AFP by telephone from his home in California.
'In a grey area'
Baba said he had concerns over the legality of funding a militia - though the NPU and its supporters balk at the term - but was reassured by the AMO that it posed no problem.
Still, the issue of training a private force on foreign soil is highly sensitive and the NPU has sent out conflicting messages.
Lazar initially told AFP that Walid Phares, a Fox News terrorism analyst and formerly a prominent leader of the Lebanese Forces Christian militia during the 1975-1990 civil war, was a key supporter.  
"He's an adviser to us to this whole project, not only the NPU, but he's an adviser to the Restore Nineveh Now initiative and the American Mesopotamian Organization," Lazar said.
But he later denied making the remark and Restore Nineveh Now's spokesman Jeff Gardner said Phares had no involvement.
In an email to AFP, Phares denied any role with the NPU, though he said he advises "a large coalition of US-based Middle East minorities NGOs, known as MECHRIC", of which AMO is a member.
VanDyke's role also seems to have stirred controversy.
Restore Nineveh Now issued a statement on February 25 acknowledging VanDyke's involvement in the training program but also stating it had ended and accusing him of attempting to use the NPU to promote his business.  
VanDyke also admits his firm is operating "perhaps in a grey area" in northern Iraq.
"We're legally registered as a company. We're not registered as anything else right now."  
A US State Department spokesman confirmed to AFP that a licence is needed when defense services, including military training, are provided.  
VanDyke throws legal concerns to the wind.
"Generally the attitude of the United States seems to be as long as you shoot in the right direction they don't care," he says.  
"You know, I go and risk my life in other countries, why would I be all that concerned about that?"