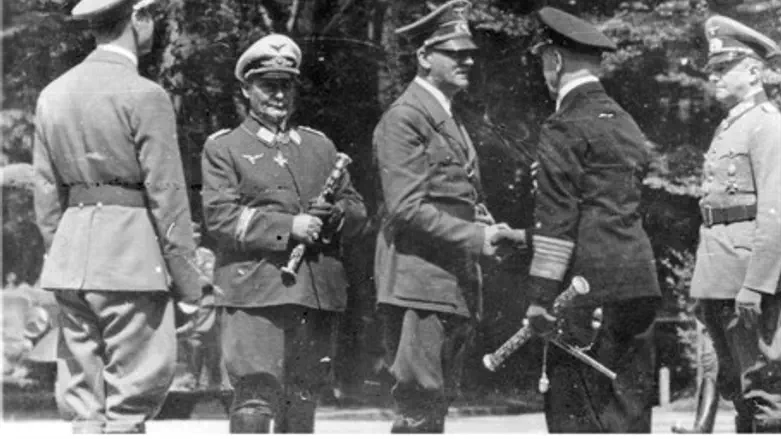 Hermann Goering (2nd L) with Adolf Hitler (C)
Reuters
The suit of Hermann Goering, the Gestapo secret police founder and air force chief, is up for auction in Britain, the Daily Mail reports Monday - a find auctioneers only made after realizing it was stained with the Nazi leader's sweat.
Goering was well-known for being overwieght, and experts say the stains and fraying on the suit - which was originally believed to be a replica - prove that the suit is an original.
The uniform is expected to garner as much as £85,000 ($127,313) when it goes up for auction in Devon-Parade Antiques, in Plymouth, Devon.
Devon-Parade Antiques owner John Cabello told the daily that he bought the uniform from a private museum in Switzerland, under the distinct impression it was a replica.
But the wear and tear along the buttons, and specifically on the left pocket of the uniform, proved to him that it was likely Goering himself wore it.
"He also had a habit when he used to walk around talking to people of putting his left hand into his left pocket," Cabello stated. "Because of this the wear on the left pocket is substantially more than the right."
Cabello reflected that the material was considerably low-quality, and indicates that the suit had been made toward the end of World War II, as supplies became less available.
Holocaust-related and Nazi memorabilia auctions have caused considerable controversy over the past several years, sparking debates in different countries across the globe on whether or not profiting from the sale equates profiting from genocide. 
In 2013, auction site eBay removed Holocaust memorabilia sales from its site after an expose from the Daily Mail, but other auctions - including the sale of Adolf Hitler's furniture and a rare edition of Mein Kampfin French auction houses - have been subject to various legal battles before being cancelled or retracted. 
And last June, the Jewish community of Adelaide, Australia protested after an auction house announced it would auction off several items of Nazi memorabilia.