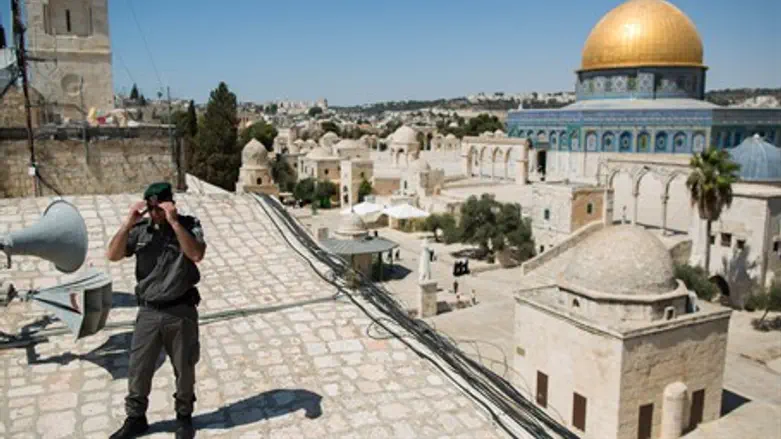 Roof of the Mahkama Building
Yonatan Sindel/Flash 90
Joint HQ of Temple Mount Organizations chairperson Attorney Aviad Visoli has sent an urgent letter to the Jerusalem District Police Chief Moshe Edri, demanding that he open the synagogue on the walls of the Temple Mount to Jewish access.
The synagogue is on the grounds of the Mahkama Building, situated adjacent to the Kotel (Western Wall) but extending out over the grounds of the Temple Mount - the holiest site in Judaism.
"The synagogue at the Mahkama Building has a special uniqueness and importance to Jews, in that it is the only synagogue in the world located within the walls of the Temple Mount," wrote Visoli. "Therefore, this synagogue is the only one in the world where the commandment of prostrating oneself on the Temple Mount can be fulfilled."
Visoli demanded that Edri respond to the request by Tuesday, adding that if no response is given, the Joint HQ activists are prepared to launch legal processes against the Israeli Police to compel them to enforce the "Law for Preserving Holy Sites" which promises free access to holy sites.
The urgent letter comes as a follow-up, after Visoli's request to enter the synagogue was rejected the day before.
Like many other Jews, Visoli was denied access to the Temple Mount during Pesach (Passover) on Sunday. Short of access to the Mount, he asked permission to visit the synagogue, but was denied by area commander Avi Biton who explained the synagogue had been turned into a military base.
In response, Visoli wrote "there is great doubt as to whether a 'military territory' order is in effect on the Mahkama area as police commander Biton claims."
"But even if there is one in effect, the commands of the law for the preservation of holy sites takes precedence over that, in regards to everything related to free access for Jews to their holy place in military territory," said the attorney. "What's more, 'safe passage' to the synagogue can be defined without harming 'military territory' (residences of Border Patrol soldiers)."
Addressing Edri, Visoli wrote, "as is known to you, the state of Israel is a Jewish and democratic state that is subject to the rule of law, and is not a military dictatorship in which soldiers' residences cancel holy sites."
Visoli concluded by demanding "to allow free access to the synagogue on Mahkama, so that every Jew will have free access to this holy place and the possibility to pray there starting from this Pesach chol hamoed (intermediary days of Passover - ed.) onwards."
The Joint HQ stated that given the repeated failure of the police to allow Jews to visit the Temple Mount on the Jewish holidays, it must at the least allow Jewish access to the synagogue built on the Mount.