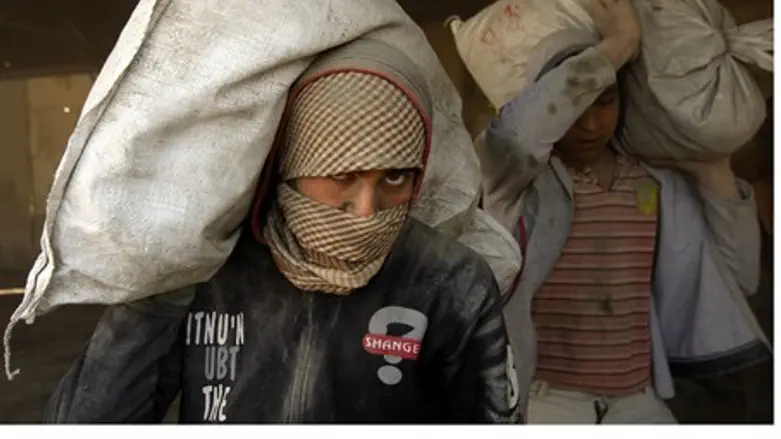 Gazan Arabs smuggle cement (file)
Abed Rahim Khatib/Flash 90
An attempt to smuggle advanced equipment suspected of being meant to help terrorists in Gaza was foiled on Monday morning, making it the second such attempt to be thwarted in the space of a week.
The smuggling was detected by inspectors in the Defense Ministry's Border Crossing Authority, in a joint activity together with the Israel Security Agency (ISA) and Coordination of Government Activities in the Territories (COGAT).
The inspectors seized a shipment of advanced electronic equipment, including infrared cameras, communications devices, and remote-controlled security cameras among others.
The advanced equipment was found in an Israeli truck that was bringing communications equipment to Gaza. Security sources will now follow up with an in-depth investigation of the incident, to try and locate the parties behind the serious security breach.
"Since the year began, the Border Crossing Authority together with security sources has thwarted over 100 smuggling attempts of forbidden goods and materials into the Gaza Strip, which it is suspected were meant to strengthen terrorist sources in the Strip," stated the security services.
Just last month a high profile smuggling ring was exposed, as three Israeli businessmen - including a resident of the Gaza Belt region that was hard hit by Hamas rockets last summer - were revealed to be behind a network funneling materials and advanced electronics to Gazan terrorists.
According to the indictment against the smuggling ring, the equipment they snuck into Gaza including materials for Hamas's terror tunnel network was bought by Palestinian Arab merchants who passed them into Gaza with the aid of the Israeli businessmen.