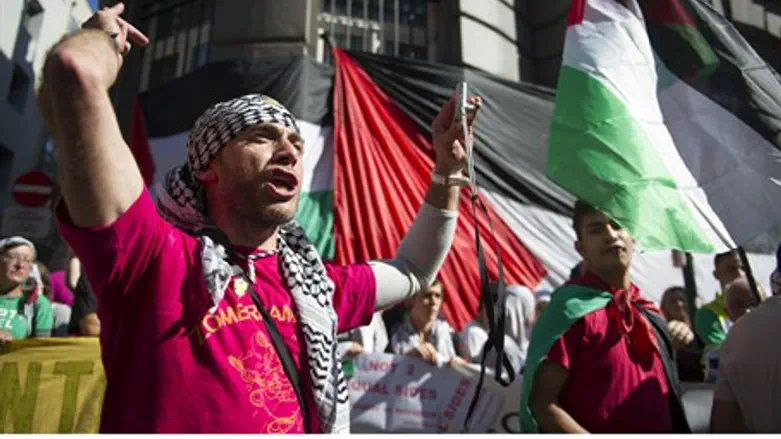 Anti-Israel protest in Belgium
Flash 90
Bosnian soccer fans in Vienna joined a pro-Palestinian demonstration which quickly turned viciously anti-Semitic, Austrian newspaper Der Standard reported. 
The fans were in town for an international game between Austria and Bosnia-Herzegovina at the Ernst Happel stadium on Tuesday. Hours before the match, they congregated for the rally at Vienna's central Stephanplatz square. 
A video of the incident, posted on YouTube on Friday, shows the soccer fans shouting "Free Palestine," while flying Palestinian flags. Spontaneously one voice screamed out, "Kill the Jews."
The violent slogan quickly spread around the square, with protestors jumping up and down and shouting, "Kill, kill the Jews."
Neither Bosnian nor Austrian officials have issued a statement condemning the incident. 
Police, however, are investigating, Der Standard reported. Spokesperson Roman Hahslinger said approximately 100 people participated in the rally, half of whom were Bosnian soccer fans.