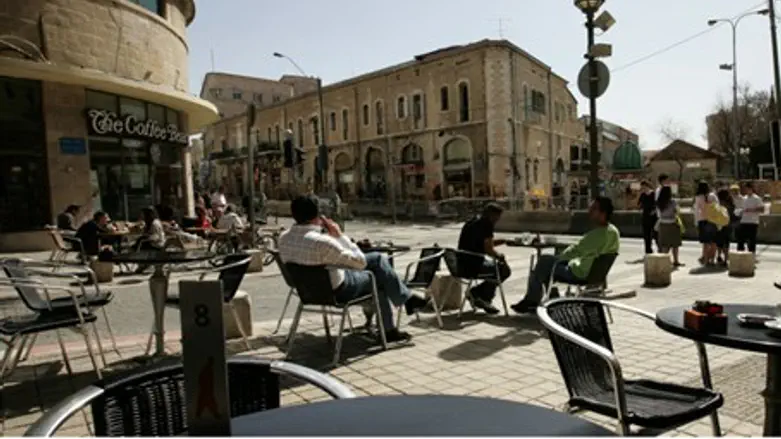 Illustration: Tourists in Jerusalem
Israel news photo: Flash 90
Sunday is the first intermediate day of Passover and Israelis across the country will be making use of both the holiday vacation and the lovely weather that is expected. 
The forecast for Sunday is pleasant with a slight rise in temperatures. Hundreds of thousands of Israelis are expected to fill the nature reserves and national parks littered around the country. 
Sunday night may see some clouds, which could result in visibility problems along the southern coastal plain and northwestern Negev. 
Monday will also be very pleasant, with an even higher temperature increase, particularly in the mountainous and inland areas. Tuesday will be unseasonably warm, and Wednesday will be even hotter. 
The high temperatures throughout the week again are especially likely to be seen in the mountains and the inland parts of Israel. 
Temperature forecasts for Sunday and Sunday night are as follows: 
Tel Aviv - 22°C (72°F) to 14°C (57°F) at night
Jerusalem - 20° (68°) to 12°(54°)
Haifa - 20° (68°) to 13°(55°)
Tzfat - 18° (64°) to 10° (50°) 
Golan Heights - 22° (72°) to 10° 

(50°) 

Tiberias - 28° (82°) to 14° (57°)
Afula - 25° (77°) to 10° 

(50°) 

Beit Shean Valley - 27° (81°) to 12° (54°)
Dead Sea - 30° (86°) to 21° (70°)
Beersheva - 25° (77°) to 10° 

(50°) 

Mitzpe Ramon - 21° (70°) to 11° (52°)
Eilat - 32° (90°) to 20° (68°)