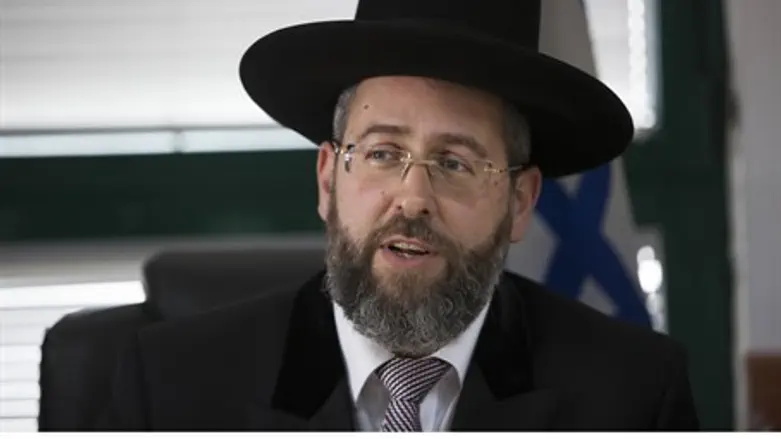 Rabbi David Lau
Flash 90
Chief Rabbi David Lau is hopeful for the future, he revealed in a special Arutz Sheva interview on Friday - and he embraces the Passover (Pesach) holiday with a call for Jewish unity. 
After the elections, Rabbi Lau requested that Prime Minister Binyamin Netanyahu become the "cementing glue" between the different parts of the Jewish people, he revealed. 
"Of course, after such an election [...] people sometimes feel disconnected," Lau said. "We talk about the 'state of Tel Aviv' or [Israel as] many tribes of different colors. But this is not fitting. Israel may have been divided into 12 tribes, and each has its role, but one does not stand above the other." 
"The other connection that Netanyahu has to forge is to connect the entire nation through its heritage, through Jewish tradition, so that we can feel that we have a Jewish state," he added. 
Rabbi Lau was asked about the 19th Knesset, which saw a number of bills introduced which challenged the status of the Chief Rabbinate. 
"This is worrying, indeed," he said. "There are those who feel alienated and we need to examine why there are people who feel alienated."
He added that the institution must "keep in mind that this is the third generation, a generation where some parents don't go to synagogue, and that as it passes from one generation to another, we move away from the source - from knowing, recognizing, giving over the experiences of practicing Jews." 
"Once we don't understand or don't know one another, this becomes a part of our atmosphere and our reality as Jews - who ultimately care about one another - and this is worrying regarding the country's Jewish identity." 
"Ultimately, the reality is that the Chief Rabbinate is a symbol of Israel's Jews," he added, stating that there are those who define the role as a sort of Jewish adviser to the government. "You can have [the Rabbinate] or decide otherwise, but be aware that the State is supposed to reflect [its role as] a Jewish state." 
"The Rabbinate tries to keep kasrut, marriage and divorce [issues] according to Jewish law, and all these things we need to maintain," he urged. "The fact is that we are no longer scattered in exile, we have one main Rabbinate, and thank God, the Jewish people have come home." 
Rabbi Lau called on the 20th Knesset to "review and correct" laws concerning civil marriage, as well as the Conversion Law, noting that while both address deep societal issues that must be acknowledged, "the object of the rules would be to remove and separate the concept of the State of Israel from the concept of a Jewish state."
He concluded that the Rabbinate "will make the effort [to get] the Prime Minister and Knesset members come to their senses and realize that for the sake of our future, we need to listen and observe things well."