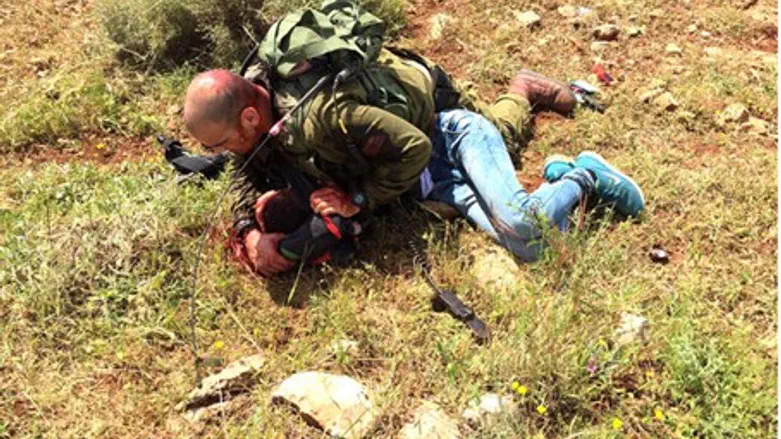 רגע ההשתלטות
צילום: דובר צה"ל
A Palestinian terrorist stabbed an IDF soldier at the Oranit Checkpoint along the Trans-Samaria Highway on Thursday afternoon.
The soldier, 22, was stabbed in the upper body, with some other reports saying he was stabbed in both the head and the legs. 
Maden David Adom medics from the Yarkon Region gave the soldier first aid treatment. He was brought to Beilinson Hospital in Petah Tikva in mild to moderate condition, and was conscious.
The soldier, a commander of a paratrooper unit, suffered cuts to both his head and his limbs. 
An initial investigation into the attack by security forces indicates that the paratrooper unit was dispatched to the area following the detection of six Palestinian illegals attempting to cross the security barrier and cross into Israeli-controlled territory. 
As they were being arrested, one of the Palestinians pulled out a knife on the commander of the unit and stabbed him. Despite being wounded and losing blood, the soldier managed to overpower the perpetrator. 
The terrorist, a minor from Tul Karm, was arrested by security forces and has been taken into custody for interrogation. He has no prior security record. 
IDF forces also engaged in a chase of another one of the Palestinian illegals, who subsequently fled from the checkpoint. 
Samaria Regional Council Head, Gershon Mesika said that the attack should "shine a red light on the handling of illegal aliens." 
"We must understand this is a problem that requires a deep and thorough strategy, rather than band-aid solutions. I expect the army to devote its full attention to this issue in order to prevent the next attack."