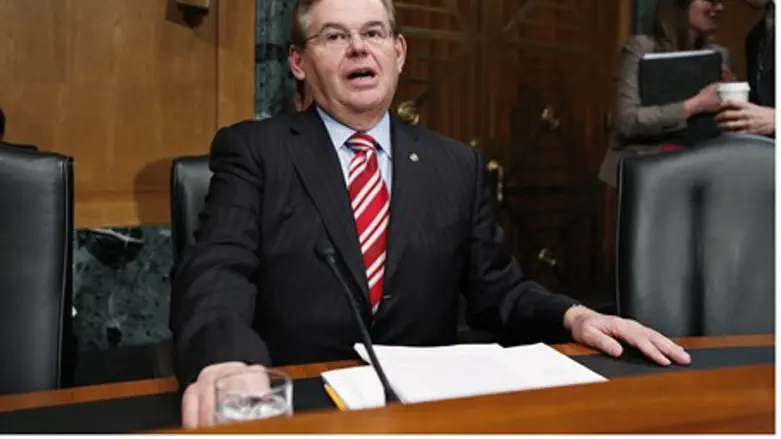 U.S. Senator Robert Menendez
Reuters
Democratic Senator Robert Menendez, one of the strong advocates for new sanctions on Iran, was indicted Wednesday on corruption charges for allegedly using his Senate office to push the business interests of a friend and donor in exchange for gifts​, CNN reports.
"Robert Menendez, a U.S. senator, and Dr. Salomon Melgen, a Florida ophthalmologist, were indicted today in connection with a bribery scheme in which Menendez allegedly accepted gifts from Melgen in exchange for using the power of his Senate office to benefit Melgen's financial and personal interests," said Peter Carr, a Justice Department spokesman, in a statement quoted by the network.
The two were indicted in the district of New Jersey for one count of conspiracy, one count of violating the travel act, eight counts of bribery and three counts of honest services fraud.
Menendez was also charged with one count of making false statements, according to Carr's statement.
Federal officials and Menendez's attorneys had discussed plans for the New Jersey Democrat to turn himself in before a planned court hearing on Thursday, according to people briefed on the case.
The government's case, first reported by CNN last month, centers on Menendez's relationship with Melgen, who the senator has called a friend and political supporter. Melgen and his family have been generous donors to the senator and various committees the senator is associated with.
Investigators have focused in part on plane trips Menendez took in 2010 to the Dominican Republic as a guest of Melgen.
In 2013, after word of the federal investigation became public, Menendez paid back Melgen $58,000 for the 2010 plane trips calling his failure to properly disclose the flights an "oversight."
Menendez has said he's innocent, noting that he has been friends with Melgen for more than 20 years and that the two families have spent holidays and other special occasions together.
Menendez, a former chairman of the Senate Foreign Relations Committee, was one of the co-sponsors of legislation calling for new sanctions on Iran. The bill, which had gained momentum in Congress last year, came under the threat of a veto from President Barack Obama.