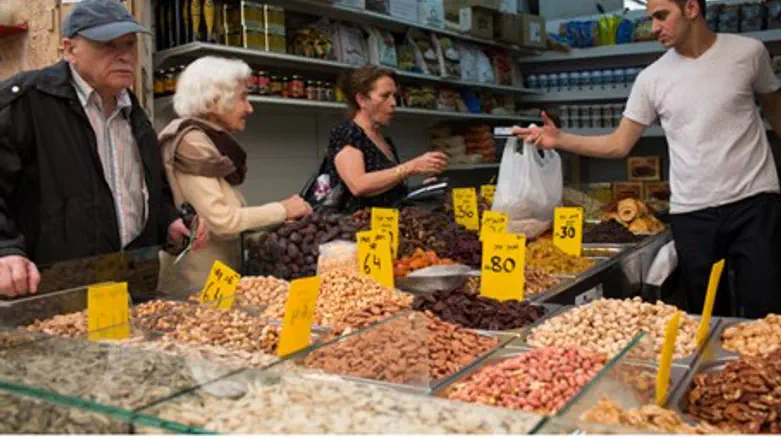 Buying food (illustrative)
Israel news photo: Flash 90
The lack of a stable government has left thousands of Israelis without food for Passover (Pesach), according to a report published Tuesday. 
The Finance and Welfare Ministries are responsible for distributing funds to various charity organizations before the holiday, following a 2014 budgetary decision setting holiday funds for the poor at 60 million shekels ($1.5M).
But without a government, charity organizations are being forced to fend for themselves, Eran Weintraub, Executive Director of Latet, stated to Walla! News on Tuesday. 
Weintraub noted that the funding for 2015 was scrapped due to inter-ministerial tensions before the election.
"Unfortunately, we are again dependent on the kindness of the public and its willingness to help as many families as possible to hold a Seder at their tables," he stated. 
18.8% of Israeli citizens are unsure where their next meal is coming from, according to Walla! News - a situation termed as "food insecurity." 
Ahead of the holiday, Latet is giving about six million shekels' ($252,000) worth food to 63,000 families across Israel through 172 local organizations - a 15% increase since last year. 
In addition, 7,500 boxes of food have been collected in food drives so far; Latet is hoping that number will reach 20,000.
Volunteers for Latet have increased to meet the growing demand, and some 10,000 people will actively distribute food to needy families before Passover, versus 9,000 in 2014.
Weintraub noted that Latet "reinvents the wheel" every year to find new ways of raising funds, and that poverty is only worsening. 
"Real change can happen in the future only if the new government puts solving poverty high on its to-do list," he said. "Therefore, we call on all party leaders who are negotiating the entrance to the government to demand the issue as part of the coalition agreements."
"We need a government program, an appropriate budget and goals and only then we can rely less on donations from the public."