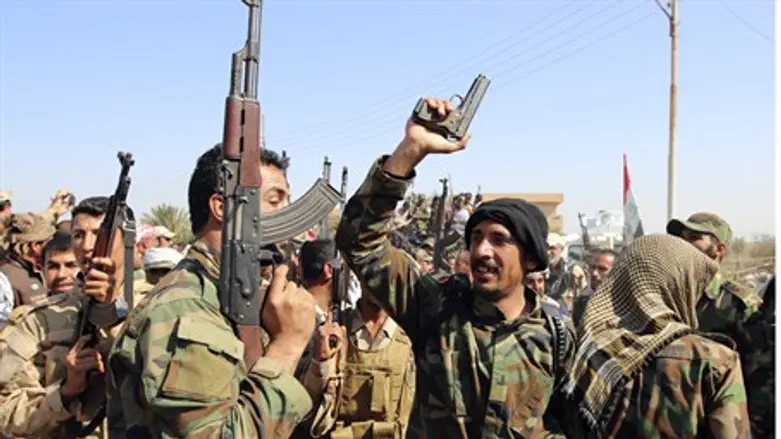 Iraqi soldiers and Shia militiamen ahead of Tikrit offensive (file)
Reuters
Conflicting reports have emerged over the fate of two Iranian Revolutionary Guard advisors on Monday, after Tehran claimed that they were killed in US airstrikes in Tikrit - a claim Washington has denied. 
US Central Command told the Associated Press that its offensive against Islamic State (ISIS), named "Operation Inherent Resolve," avoided the area around Tikrit from March 22-24 - the exact dates the IRCG claimed the advisers were killed. 
Iran claimed on its sepahnews.ir website that the alleged strike happened on March 23, and identified the advisers as Ali Yazdani and Hadi Jafari; it further claimed both were buried Sunday. 
This is the first time Iran has linked deaths during the anti-ISIS campaign to the US - a claim which also surfaces in the midst of reports that a provisional agreement on key elements of Iran's nuclear program had been reached Sunday night.
Western diplomats in talks in Switzerland said that Iran had "more or less" agreed to slash the number of its centrifuge machines "by more than two-thirds" and to ship abroad "most of its stockpile of nuclear material."
The battle in Tikrit is becoming a literal turf war between the US and Iran, AFP reported last week. 
Washington had expressed strong reservations over the leading role played in the Tikrit operation by Shiite militia groups, some of which have been accused of serious abuses.
Iran's top commander in charge of external operations, Qassem Suleimani, has been ubiquitous on the Salaheddin front lines and is perceived by many Iraqis as the brain behind Iraq's ground operations.
But the Pentagon insisted Washington remained Baghdad's most precious partner in the war to reclaim the vast regions of Iraq ISIS conquered last summer.
Tikrit holds both strategic and symbolic importance. It was the hometown of executed dictator Saddam Hussein, remnants of whose Baath party collaborated with ISIS last summer.
And it is seen as a key stepping stone to recapturing Iraq's second city Mosul, the jihadists' largest hub.