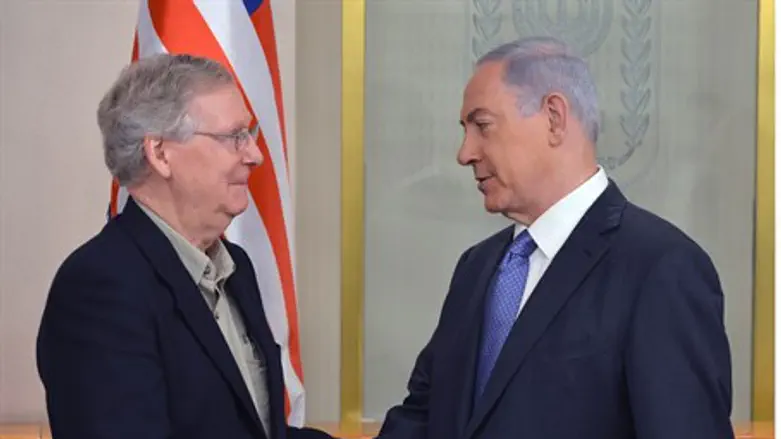 Netanyahu and McConnell
Koby Gidon/GPO
Prime Minister Binyamin Netanyahu met Sunday with Senate Majority Leader Mitch McConnell, who is on a visit to Israel. Speaking before the meeting, Netanyahu said that Israel was "very worried about our common interests in the wake of recent development in the Middle East. As we speak, Iran is acting wildly in Yemen. This is correctly seen by all the countries in the Middle East as a strategic move to dominate the region and therefore we are witnessing something quite unprecedented."
"Unbelievably," Netanyahu said, as Iran was seeking to seize strategic areas of Yemen that would let it control shipping in the entire Middle East, talks on a nuclear deal with Tehran were continuing, "and from what we hear, the talks are smoothing a path for Iran's acquisition of a nuclear weapon. Even as meetings proceed on this dangerous agreement, Iran's proxies in Yemen are overrunning large sections of that country and are attempting to seize control of the strategic Bab-el-Mandeb straits which would affect the naval balance and the global oil supply. After the Beirut-Damascus-Baghdad axis, Iran is carrying out a pincers movement in the south as well in order to take over and conquer the entire Middle East. The Iran-Lausanne-Yemen axis is very dangerous for humanity and needs to be stopped." 
Netanyahu also addressed the current strained relationship between him and President Barack H. Obama, saying that he welcomed McConnell and the other Senators and House representatives that had accompanied him, saying that "over the weekend I spoke with US Senate Democratic leader Harry Reid, and that both he and McConnell had expressed " strong and continuing bipartisan support for Israel and of course this is very important. This is something that I think cuts across the aisle in the United States. And I believe we'll continue to do so."
"Senator McConnell, Mitch, and friends. It's very good to see you here in Israel. But I'm delighted always to see you and all Representatives from the US Congress and Senators.
In response, McConnell congratulated Netanyahu for his "extraordinary address" to Congress on the Iran nuclear issue early in March. "I want to assure all Israelis that the US-Israel relationship is still, no matter what's been said recently, in very, very strong shape on a bipartisan basis in the US Congress.
"The group who are here share your concerns about this potential agreement and there are options that the United States has in a wake of an agreement and if there is no agreement," said McConnell. "The option if there's an agreement is a bill that we intend to vote on that enjoys bipartisan support to require that agreement come to Congress for approval. If there's no deal, then the view of this group, similar to your own, is that ratcheting up sanctions might be the best direction to take in the wake of a deal that does not come together."