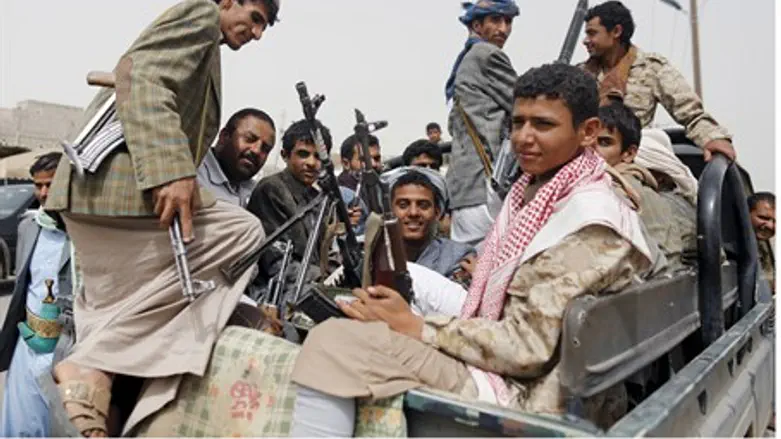 Houthi rebels outside Sanaa Airport, Yemen
Reuters
Saudi forces began air strikes against Houthi-controlled Yemeni forces, which began just three days ago, have caused considerable damage to the Iranian-backed rebels so far, according to reports.
Yemen's air force has already been destroyed by the raids being conducted by Saudi Arabia and several allies who are trying to prevent the takeover of southern Yemen by the Iran-backed Houthis.
According to a statement by Saudi military forces, the Houthi rebels "are no longer possessing" jet fighters. The statement added that the objectives of the Saudi forces in the first phase of the campaign has been "achieved."
Saudi Arabia began its campaign against the Houthi rebels least week after the Iran-allied groups took over the government and booted out the country's President Abd-Rabbu Mansour Hadi – who fled for his life by ship from Aden last week, as Houthis threatened to seize the strategic coastal area of southern Yemen. By doing so, the Houthis – and by extension, Iran – would control all traffic going through the Red Sea, jeopardizing shipping for the Saudis, Egypt, Jordan, and Israel.
Iran last week threatened Saudi Arabia for its planned intervention in the Yemen crisis, announcing that its foray there would end up costing it dearly.
The Saudi "aggression," said Iran's Foreign Ministry, would "complicate the crisis in the country and kill opportunities for peaceful resolution of the crisis in the Arab country. The smoke of the war in Yemen will reach the eyes of the Saudis." Iran has not yet commented on the destruction of the Yemeni air force.