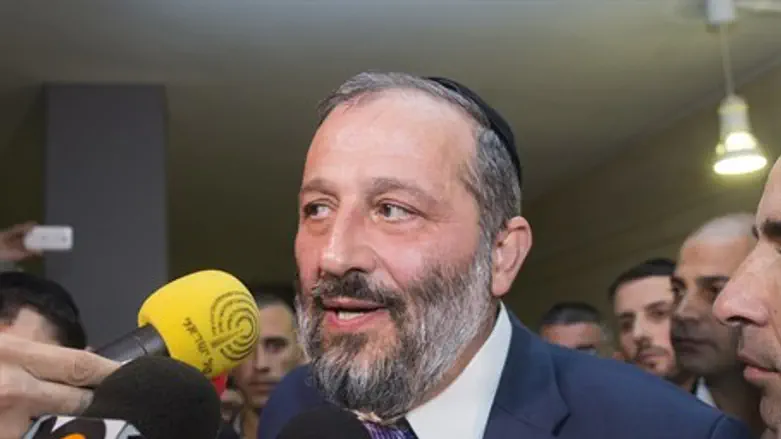 Aryeh Deri
Yonatan Sindel/Flash 90
Shas may have more support than the recent elections results indicate - as a Shas Chol HaMoed mega-event being planned for Jerusalem has a "surprising" and extensive guest list. 
According to the event's organizers, while every Jewish family in Israel is cleaning their homes for the Passover (Pesach) holiday, Shas activists are meeting with a production team for the event, which is being held in the Jerusalem arena.
Hundreds, if not thousands, are expected to attend; managers are working on bringing busloads of people from all corners of the country.
Several rabbis are expected to attend - many of whom are allegedly not part of the haredi party's inner circle. 
Benny Elbaz, Yaniv Ben Mashiach, Medad Tasa and Chaim Israel are all slated to sing on stage at the event, and are expected to "form its heart," one organizer stated to Arutz Sheva. 
"This will be a happy holiday for Sephardic [Jews] to celebrate en masse, and [they will] arrive from all over the country to celebrate with us in pride," he added. 
The event is a revival of a long-standing Sephardic tradition, and past events were held in Jerusalem's Gan Sacher or the stadium at Givat Ram to accommodate large crowds, in the heyday of such youth groups as 'Al HaMaayan.'
Thousands of families would be brought into Jerusalem by bus, then attend prayers at the Western Wall (Kotel), travel to Beit Lehem to pray at Rachel's Tomb, and then attend an assembly headed by Shas spiritual leader and renowned rabbi, Rabbi Ovadiah Yosef.