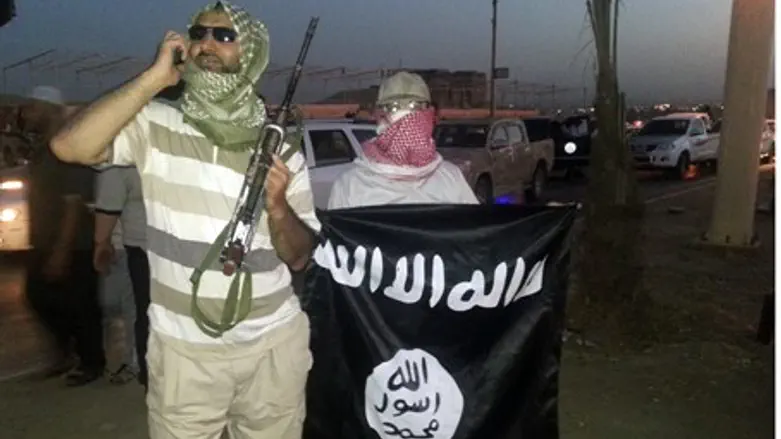 ISIS supporters (file)
Reuters
Islamic State has recently found a following among Bedouin tribes in southern Jordan, tens of kilometers away from the border with Israel, sources from the IDF's Southern Command claim, according to Walla! News.
Sympathy for the terror organization, IDF sources fear, may spur terror cells to be established along the border, from where terrorists will infiltrate into Israel's Aravah region and carry out attacks. 
Concern is only amplified by the fact that there is no border fence between Jordan and Israel in that region, and the Aravah Division of the IDF, responsible for border security, suffers from low manpower. 
Just last month, Walla!  reported that seven people entered Israel illegally from Jordan, made their way to the Yotvata Kibbutz on the border, and stole vehicles before disappearing. None of the infiltrators have been caught. 
Jordan, meanwhile, is presently dealing with waves of refugees pouring in from Syria. In addition to food and shelter concerns, Jordanian security forces are also working to prevent terror cells belonging to both ISIS and Al Qaeda's Al-Nusra Front from springing up. 
Nonetheless, many ISIS supporters in Jordan are terrorists who returned from Syria, and there is a real concern that they will begin trying to accumulate followers thereby creating splinter groups. 
While IDF officials have confirmed there is a growing concentration of pro-ISIS supporters in Jordan's Ma'an province, kilometers away from the border with Israel, they argued it was too early to tell if active terror cells posed a genuine threat at this point.