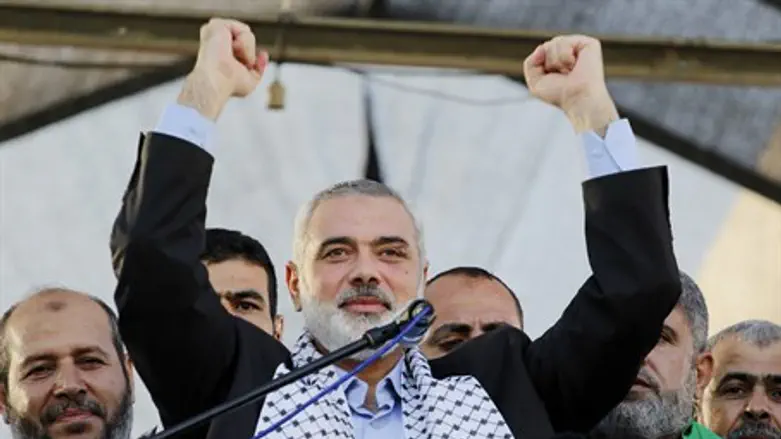 Ismail Haniyeh
Flash 90
Hamas deputy politburo chief Ismail Haniyeh said over the weekend that Israel agreed to providing a gas pipeline to Gaza's power plant - the plant has shut down on numerous occasions given Hamas's reliance on smuggling tunnels to Sinai that Egypt recently began cracking down on.
While speaking at the Al-Shati "refugee camp," Haniyeh, who formerly was the Hamas government's prime minister, promised a prepayment for public workers in Gaza stranded several months without salaries, particularly those who were employed by Hamas after it seized power in 2007.
There has been a wage war between Hamas and the Palestinian Authority (PA) since the two signed a reconciliation deal last April and created a unity government, which has claimed bureaucratic issues are fouling up its ability to transfer wages to Hamas employees - although the financial impact of funding a recognized terrorist group is expected to be the real incentive.
Turning his attention to the faulty electricity in the Hamas stronghold of Gaza, Haniyeh said Israel had agreed to an arrangement by which it will provide gas to the local power plant.
According to the Hamas leader there are two possible ways of implementing the suggestion that are currently under discussion.
The first would involve a direct pipeline from the gas company located in Israel opposite the Gaza coast, and the second proposal would have a pipe from Israel passing through Egypt's Sinai, and from there into Gaza.
The cost of the gas pipe is estimated at $25 million he said, adding that Qatar, one of Hamas's key backers, agreed to aid in funding the project.
"Camouflage" policy
Hamas has reportedly been in talks for a three to five year truce with Israel, demanding that Israel ease the transfer of goods to Gaza and likewise calling for a limitation in Israeli activity in Judea and Samaria.
Haniyeh also revealed over the weekend that due to last summer's war against Israel which Hamas started, the terrorist organization has started to adopt a policy of "camouflage" deception.
Explaining the new policy, he said the situation at surface level is being presented outwardly as routine, but covertly the group is ramping up efforts to produce weapons, dig terror tunnels into Israel and prepare for the next assault on the Jewish state.
As Haniyeh revealed, Hamas has been documented rebuilding its terror tunnels with cement transferred into Gaza by Israel since the last war ended.
Nevertheless, a PA official revealed earlier this month that apparently as part of the truce talks, Israel had lifted a longstanding ban on the import of dual-use Portland cement into Gaza.
Two weeks ago on Thursday, Israeli authorities allowed 1,000 tons of cement paid for by Qatar to enter Gaza - last Monday, Gaza Belt region residents revealed they were hearing digging sounds from underground, apparently from Hamas continuing to dig its tunnels meant to attack Israeli civilian centers.