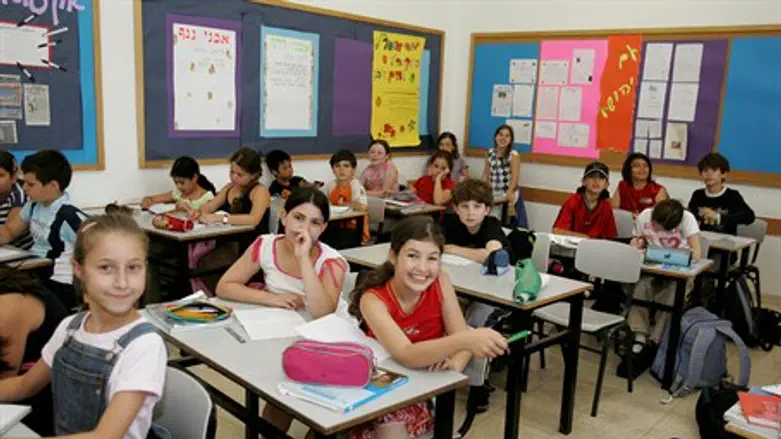 Tel Aviv school classroom (illustration)
Moshe Shai/Flash 90
The victory of Likud and the nationalist camp in elections led one Tel Aviv teacher to vent her leftist frustrations in a vulgar and offensive Facebook post targeting right-wing voters.
The teacher has been summoned for a hearing with the district manager of the Education Ministry after her caustic comments were revealed in Makor Rishon.
In a post replete with a number of typos after the election votes were published, showing Likud defeated Labor soundly by a margin of 30 seats to 24, the educator wrote "oy I am so angry...I'm so furious."
Giving her leftist rage expression, the teacher wrote that she "wishes to all right-wing male and female voters that you bury your loved ones. I don't care if it's in a (terror) attack or war. A (military) operation would be fine for me too. Preference for 1+1."
"I wish that you get brutally raped in synagogues that were built for the soul of the Maran (a reference to Rabbi Ovadia Yosef - ed.) and dance at the weddings of those who attack you, those same ones who won't receive punishment or (sic) just service work in kindergartens," she continued.
"I wish this to you all with my whole heart," she wrote. "Because I don't want to take revenge on Bibi (Binyamin Netanyahu - ed.). I want to take revenge on you. Every one of you, power-hungry murderers with blood on your hands."
Concluding her post, she wrote "my soul is scorched because of you all. And I won't sit in a square and explain the pain of the bereaved families. I won't include your fear in the name of tolerance. I won't eat any more ashes. Now it's your turn."
Shortly after the post was put on Facebook, the teacher apparently got cold feet and erased it, but not before it had gotten picked up.
Next week she is to appear at a hearing with the Education Ministry's district manager, at the end of which a decision will be made regarding her continued employment teaching children in Tel Aviv.
In response to the post, the Education Ministry released a statement reading "the Education Ministry director Michal Cohen ordered the district manager to immediately summon the teacher for a hearing."
"The Education Ministry expresses disgust and shock at these statements," it added. "The Ministry will show zero tolerance for expressions with a call to violence, incitement and harm to the public."