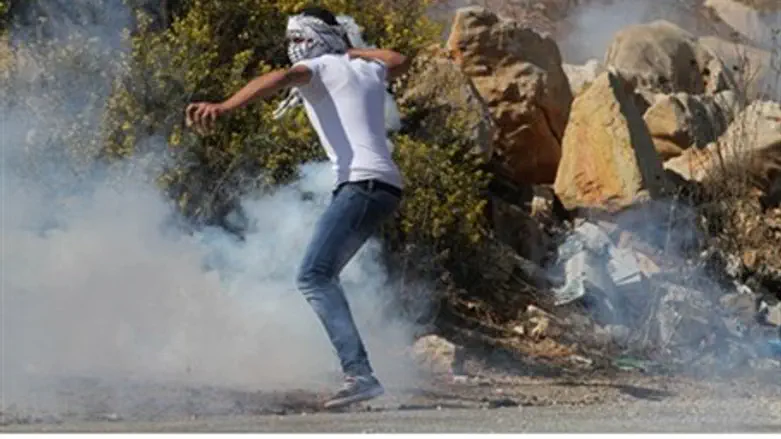 Arab throws rocks (file)
Flash 90
About 40 Arab high-school students from the Israeli Arab city of Umm al-Fahm ganged up on a man guiding a Jerusalem-area high-school yeshiva's annual field trip Wednesday, beating him severely.
The attack took place at the Banyas reserve in northern Israel. According to the Jewish guide, the altercation began when three Arab youths began cursing him. He asked them to stop harassing him and kept on walking at the head of his group, as the Arabs continued to hurl abuse at him.
The three Arabs called their classmates a few minutes later, however, and these approached the Jewish group as well.
"We kept walking down the path and 40 Arab youths came and began to position themselves in a way that separated me from the students, and they started beating me all over my body," the guide told Arutz Sheva.
The guide said that two nature reserve inspectors who were present at the reserve helped him evacuate himself to a medical clinic, from which he was sent to undergo CT and X-ray imaging at a hospital. He also filed a police complaint.
He accused the manager of the reserve, however, of trying to whitewash the incident and prevent the police from coming. The victim added that the manager even shouted at the people who assisted him and threatened them.
Five months ago, a similar event took place at the Arbel range in northern Israel. Female students from a school at Kibbutz Sde Eliyahu were assaulted by students from an Arab high school in the Galilee, who threw rocks at them.
The father of one of the students told Arutz Sheva at the time that the hail of rocks was "a very heavy one," and that the students' guide told them to take shelter in a cave. One student was wounded when several rocks struck her.
The Arab students' guide apologized to the Jews for the incident.
In the past, groups of Jewish students on hikes were always accompanied by armed guards, who often included parents of the students.
Now, even if armed guards are present, they do not dare open fire, for fear of being mercilessly prosecuted by the law enforcement authorities, which have adopted radical policies against Jewish self-defense. It is argued that the shift in policies can be traced to a radical leftist takeover of the judicial system, beginning in the early 1980s.
The harsh legal treatment of Jews who fire in self defense has resulted in a general deterrent effect against all forms of Jewish self-defense. This could explain why the Jewish yeshiva students apparently did not fight back against the attackers who assaulted their guide.