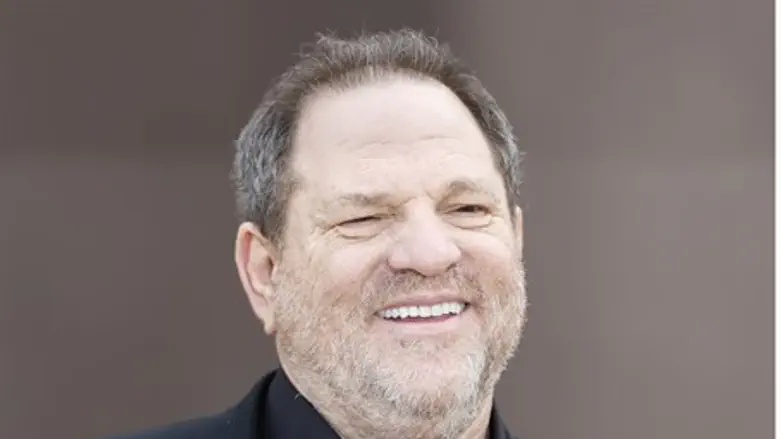 American film producer Harvey Weinstein
Reuters
Hollywood mogul Harvey Weinstein has urged Jews to fight anti-Semitism "like the mafia", in a no-holds-barred speech at Tuesday night's Simon Wiesenthal Center's National Tribute Dinner.
The 63-year-old producer, who received the Simon Wiesenthal Center's Humanitarian Award at the event, said Jews should take a concerted, proactive and aggressive approach to fighting Jew-hatred.
"We better stand up and kick these guys in the ass," Weinstein said, according to The Hollywood Reporter. 
"We're gonna have to get as organized as the mafia... We just can't take it anymore [from] these crazy bastards."
The Inglorious Bastards producer drew applause with his call to arms. "Too bad movies can't all be like Inglourious Basterds, where Hitler gets what he deserves," he added.
Lamenting the rising levels of anti-Semitism in Europe in particular, which peaked alarmingly last summer and has triggered talk of a mass Jewish exodus from the continent, Weinstein insisted the answer was to fight, not run.
"I'm upset when I read The Atlantic Monthly's headline that says, 'Should the Jews leave Europe?' — a resounding 'no' on my end — and [New York Times columnist] David Brooks today talking about how to combat anti-Semitism.
"It's like, here we go again, we're right back where we were [before the Holocaust]. And the lessons of the past are we better stand up and kick these guys in the ass."
After recounting how his father - a sergeant in the US Army during World War Two - had helped the Haganah before the State of Israel's founding, he called on Jews to join forces with moderate Muslims to fight Islamism.
"I think it's time that we, as Jews, get together with the Muslims who are honorable and peaceful — but we [also] have to go and protect ourselves," he said. "We have to build, once again, back into the breach."
There's a quote from Kurt Vonnegut's book The Sirens of Titan and it always was the motto of Miramax and now The Weinstein Company. It says, 'Good can triumph over evil if the angels are as organized as the mafia.' That's how we built our company! And, unfortunately, we [Jews] are gonna have to get as organized as the mafia. We just can't take it anymore. We just can't take these things. There's gotta be a way to fight back."