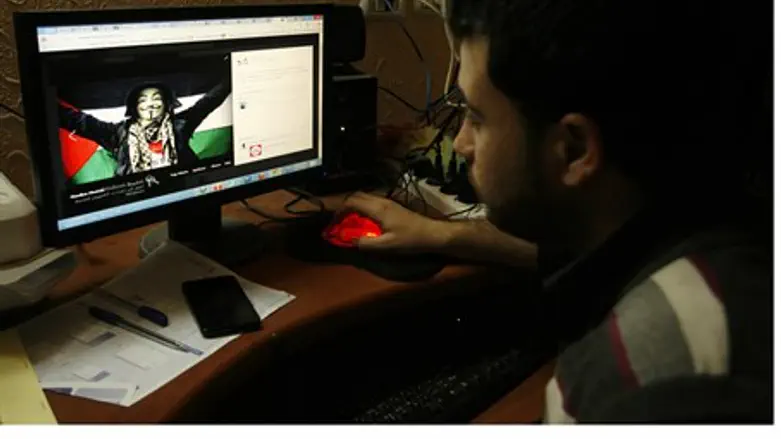 Anti-Israel hackers (file)
Abed Rahim Khatib/Flash 90
Anti-Israel hackers are promising to subject Israel to an "electronic Holocaust" next month – and experts say that Israelis could expect to see the details of their credit cards online, with increased attacks via e-mail and text messages to private cellular phones.
The attacks, promised for April 7, are being organized by Arab hackers. The largest hacker group participating, AnonGhost, is affiliated with the global hacker group Anonymous, and is set to attack Israel for the third straight year, said Daniel Cohen, a research associate at the Israel Institute for National Security Studies (INSS) Cyber Warfare program.
"These groups call themselves anonymous, but in reality the Op-Israel hackers responsible for the actions are mostly from the Middle East, with connections to our local conflict," he noted.
According to Col. Gabi Siboni, head of the INSS Cyber Security Program, "the terror challenges facing Israel and the West are not only physical, but cyber as well. Israel is confronting these threats from Shi'ite Hezbollah and from Sunni Hamas on a daily basis."
"They are sophisticated and becoming more so. There is no question that in due course, the United States and other Western countries will face the same threats as Israel from these groups as well as from ISIS (Islamic State), if they are not already. ISIS is particularly adept at using the world-wide web to further its goals. But it is not only terrorist groups that perpetuate cyber attacks, nations do so as well and the need for cyber-security responses are growing exponentially," warned Siboni.
INSS Cyber program experts suggest that organizations upgrade their servers, perform backups, never open emails from unfamiliar sources and monitor activities on their website. Private citizens should consider changing simple passwords to more complex ones and never open unidentified e-mails.
These types of issues and others will be discussed at the US-Israel Defensive Cyberspace Operations & Intelligence (DCOI) conference to be held April 27 – 28 in Washington, DC.  The conference is an Israeli-American partnership which seeks to promote informed public debate on cyber-net security and international collaborations in the technological, intelligence and policy-making domains.