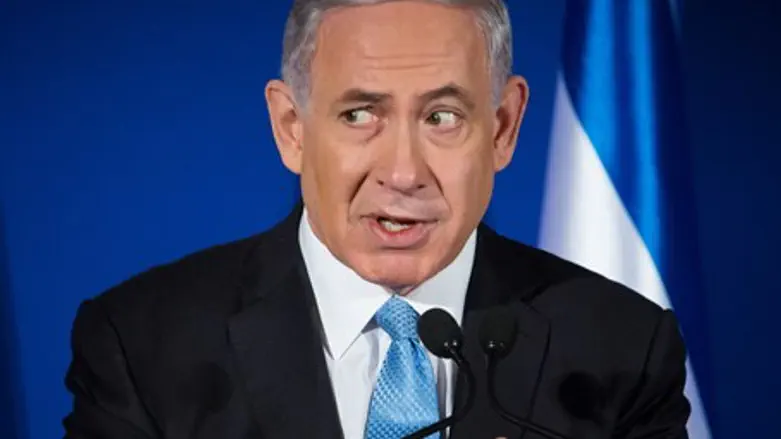 Binyamin Netanyahu
Hadas Parush/Flash 90
Prime Minister Binyamin Netanyahu offered a public apology Monday night to Israeli Arab citizens, after a controversial comment made last Tuesday sparked outrage.
"The things I said hurt some citizens. I had no intention [to cause harm] and I'm sorry that I did. I see myself as Prime Minister of all," Netanyahu said during a meeting with Arab mayors. 
Speaking to Arutz Sheva on election day, Netanyahu warned that "huge numbers of Arabs" were coming out to vote, adding that many were being brought to the polling booths by V-15 and other NGOs funded from abroad.
"We do not have NGOs. We do not have V-15, we have 'tzav 8'. We have you. If you do not go to the voting booth, Ahmed Tibi and Hanin Zoabi will make Buji Herzog prime minister for the Left," Netanyahu said, urging constituents to come out to vote for Likud. 
Netanyahu's remarks caused a firestorm in Israeli media, with many accusing the Prime Minister of using racism to win over voters. 
Left-wing politicians were particularly appalled by the statement, with MK Shelly Yechimovich (Labor) writing: "No western leader would have dared issue a racist text like that."
The United States was similarly displeased with Netanyahu's comments. White House Spokesman Josh Earnest noted Thursday that they were "deeply concerned by decisive rhetoric that seeks to marginalize Arab-Israeli citizens."
Calling Netanyahu "dangerous," the Joint Arab List told President Reuven Rivlin on Sunday that it intended to contact the Attorney General about prosecuting the Prime Minister for his remarks.