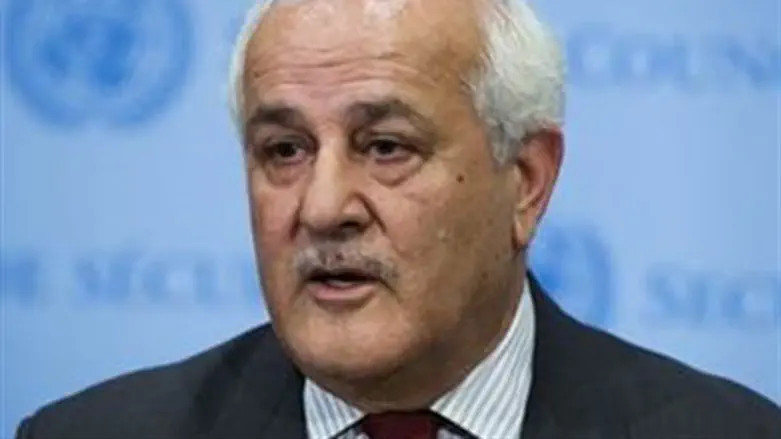 Palestinian Authority UN envoy Riyad Mansour
Reuters
The Palestinian Authority is determined to prosecute Israel in the International Criminal Court, no matter what, the PA's United Nations representative, Riyadh Mansour, said Sunday. Speaking on NBC's Meet the Press, Mansour said that at this point, there was nothing that would stop the PA from trying to prosecute Israel in the ICC.
The only way to prevent this, he said, was an immediate end to Israeli settlement activities in Judea and Samaria. "The first step should be to adopt resolution on the parameters to defend a two-state solution and then after that we should have another resolution from Israel to stop this illegal activity of settlement activities, because we cannot have a two-state solution when we have 600,000 settlers," he said.
On counterpoint was Israel's U.S. Ambassador Ron Dermer, who reiterated that Prime Minister Binyamin Netanyahu had been misunderstood on his position on the possibility of the so-called two-state solution. "Netanyahu did not say what the President (Obama) and others are hinting that he said," that there would never be a Palestinian state while he was Prime Minister, Dermer said. "Our concern is that a Palestinian state today will become a terror state," Dermer said, pointing to the Hamas control of Gaza.
What if the United States indeed does "reassess" its political relationship with Israel and does not stand in the way of UN Security Council condemnations of Israel, asked host Chuck Todd? "I hope that doesn't happen," said Dermer. "The position of the United States for years has been to support a solution based on an agreement negotiated by both sides. That is the only way to achieve peace. UN resolutions will achieve just the opposite," he said.