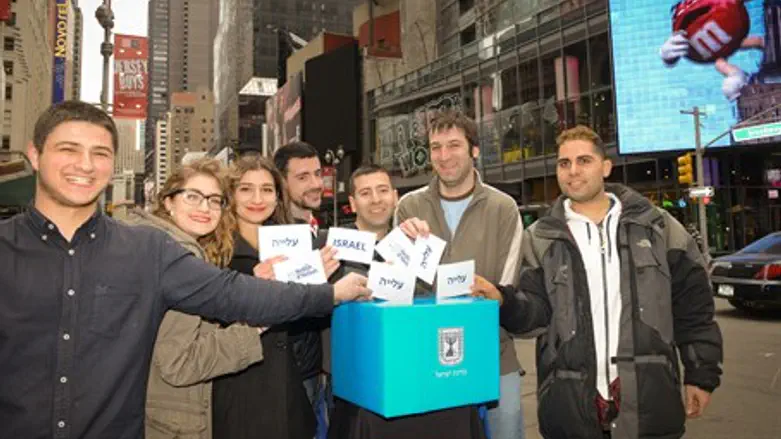 Choosing Israel in Times Square
Shahar Azran courtesy of Nefesh B'Nefesh
As Israel ramped up for elections, 1,200 Jews at the Crowne Plaza Times Square in downtown New York ramped up for their Aliyah (immigration to Israel), taking part in a Nefesh B'Nefesh (NBN) aliyah mega event.
The NBN event, hosted together with The Jewish Agency for Israel, Israel's Ministry of Aliyah and Immigrant Absorption, Keren Kayemeth LeIsrael and JNF-USA gave the prospective Israelis access to seminars and workshops to prepare for the move to Israel.
Marc Rosenberg, an NBN pre-aliyah director, told Arutz Sheva that one in five of participants in last year's mega event have already made aliyah and are currently in Israel.
According NBN Co-Founder and Executive Director Rabbi Yehoshua Fass, the numbers at the event have risen dramatically, from around 700 to 800 last year to 1,200 this year.
The event provided information on the whole gamut of issues inherent in making aliyah, including insurance, health care, universities, real estate, as well as career and financial planning and numerous other matters.
Israeli Ministry of Health officials were also in attendance to held speed up the medical licensing process for those in the medical field planning aliyah.
"In addition to the hundreds of students, professionals and retirees attending today's event, it is impressive seeing so many medical professionals coming from all over North America expressing interest in making aliyah," said Rabbi Fass.
The rabbi noted "our Aliyah Fairs are a beneficial way for those contemplating moving to Israel to hear firsthand from an array of professionals, through tailored employment, social and educational sessions on how to build a plan for creating a successful Aliyah."
Over 50,000 North American and British Jews have attended NBN pre-aliyah seminars so far, taking themselves another step closer to returning to the Jewish homeland.
Voting for aliyah in Times Square Shahar Azran courtesy of Nefesh B'Nefesh