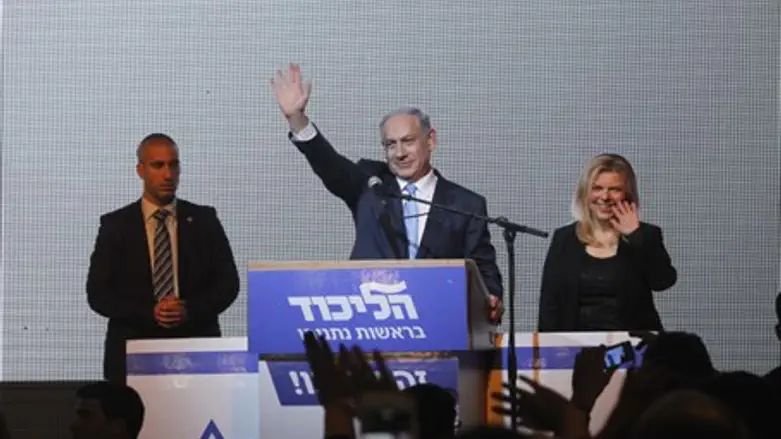 Netanyahu addresses Likud supporters
Miriam Alster/Flash 90
The work of counting the votes of Israel's electorate is almost finished, and the Central Elections Committee announced Thursday morning that it would release final figures in the afternoon.
Under Israeli law, interested parties have a week to challenge those results, after which they become official. At that point, the candidate chosen by the President to form a government – without doubt Binyamin Netanyahu – will have 28 days to present a government to the President, which will then be voted into power by the Knesset.
The Committee spent Wednesday counting votes from soldiers, diplomats, and others who were unable to vote in their assigned polling places. Some 200,000 of these "double envelope" votes were counted through Thursday morning, the Committee said.
The latest count officially raises the Likud's share of the Knesset to one quarter, with the party receiving 30 seats. That extra mandate, the Committee said, came from United Torah Jewry, which had been wobbling between six and seven seats.
It also appears that Meretz will get a fifth seat, with the Joint Arab List dropping down to 13.
Eli Yishai's Yahad party is still some 10,000 votes short of reaching the minimum vote threshold for Knesset representation, the Committee said, which was about 131,000 votes.