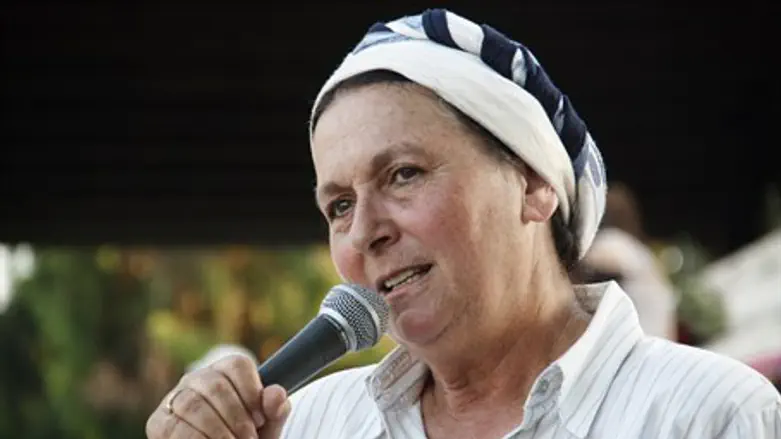 Daniella Weiss
Israel news photo: Hillel Maeir
Daniella Weiss, co-founder of the NACHALA Land of Israel movement and one of the organizers of the nationalist rally that took place this week at the Rabin Square in Tel Aviv, said on Wednesday she was elated by the results of the elections.
"I really wanted the right to win, I wanted Netanyahu to be Prime Minister and I especially wanted to strengthen our hold on the Land of Israel," Weiss told Arutz Sheva as results indicated that the Likud had won 30 seats.
The high turnout at Sunday evening's rally was an indicator of the nationalist camp's impending victory, she added.
"When we talked about Netanyahu possibly coming to the rally it seemed like an imaginary scenario, and I am glad that Minister Yisrael Katz was the first who jumped into the cold water. Everyone thinks this was a turning point, there were a hundred thousand people at the rally and that was after the Likud was in a state of stagnation," said Weiss.
She expressed hope that the next Israeli government will resume construction in Judea and Samaria with all its might, adding, "I hope to see Bibi from this point forward being faithful to his commitments, being loyal to Israel."
"We definitely need to bring 2 million Jews to Judea and Samaria, within a short time," Weiss continued. "Talking about the E1 area or about outposts is not enough, there should be here a large national plan for settlement."