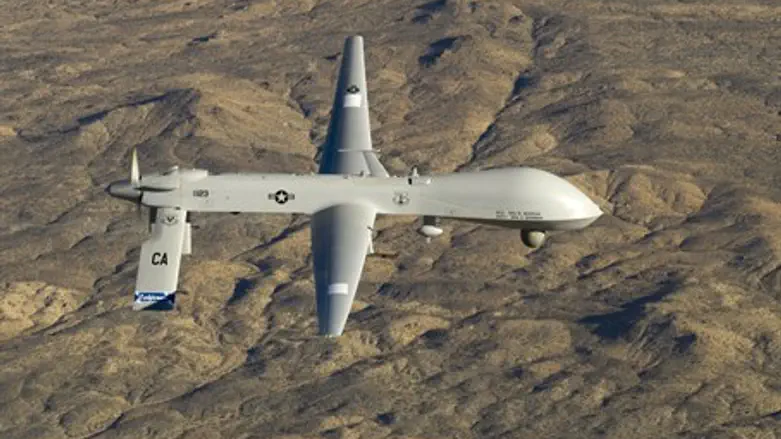 US Air Force MQ-1 Predator Drone (file)
Reuters
Syria's military downed a US drone in the country's west because it was snooping in an area where Islamic State (ISIS) jihadists are not present, a military source said Wednesday.
"Did the drone come into Syrian territory just to have a picnic?" asked the source, who spoke to AFP on condition of anonymity.
"As soon as it entered Syrian air space, we considered it to be gathering security and military information on Syria's territory," he said.
The source said the aircraft was not immediately identified as being American, but was "dealt with as a hostile target."
Syrian air defenses shot down the aircraft over the coastal province of Latakia, a stronghold of President Bashar al-Assad, state media said Tuesday.
The US military confirmed it had lost communication with an unarmed Predator drone on Tuesday over northwest Syria and was looking into the claims it was brought down.
A US-led coalition has been conducting air strikes against Islamic State (ISIS) jihadists in Syria since September, but Syria's military said the drone did not appear to be part of that effort.
"The aircraft entered areas where Daesh is not present," the military source said, using the Arabic acronym for the group. He said investigations were ongoing, but that it was likely the drone entered Syria from Turkey; Turkey has in the past refused to allow the US to strike ISIS in Syria from its bases.
The Syrian Observatory for Human Rights monitoring group said the drone was shot down in Al-Maqata, a village near the provincial capital of Latakia.
"There are no opposition fighters or jihadist groups anywhere in that area, but there is a large presence of regime forces," said Observatory head Rami Abdel Rahman.
The port city of Latakia has been targeted by Israel in the past, in strikes taking out shipments of advanced missiles on their way to Hezbollah terrorists in Lebanon.